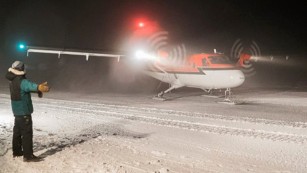 Before I left for Utah last week, one of the stories that we were watching closely was a daring and risky evacuation flight to the South Pole. At the time, all we knew was that a staff member at the Amundsen-Scott research facility had taken ill, and the situation was so desperate that two Twin Otter Aircraft has been scrambled from Kenn Borek Air in Canada to evacuate them. While it took some time to complete, that rescue operation did go off successfully, with everyone involved making it back safely.
Due to the fact that it is currently winter in the Southern Hemisphere, the flight was an incredibly risk one. Weather conditions are unpredictable and very dangerous in that part of the world this time of year, making it risky to come and go from the South Pole. Typically that means that anyone at the South Pole research station has to stay there until spring arrives in November. But in this case, the medical situation was so dire that it was deemed necessary to take the risk to bring out the patient.
That's exactly what happened last week, with the flight carrying not one, but two, South Pole staffers arrived back in Punta Arenas, Chile on Wednesday. That successful return followed several very long day, during which the pilots flew from Canada to South America, than crossed the Southern Ocean to reach the British Rothera Research Station, than continued on to the South Pole, and back again.
Two aircraft were required to complete the rescue with one making the full fight to the Pole, while the other stood by to lend a hand if needed. Fortunately, the entire mission came off without a significant hitch, and the two sick workers are now receiving medical attention. Their names and afflictions haven't been announced.
I'd love to hear more about this story and find out all the details behind it. Hopefully someone will do an in-depth article about what this adventure was like for the pilots. I'm sure there is quite a story to be told.
Latest posts by Kraig Becker
(see all)