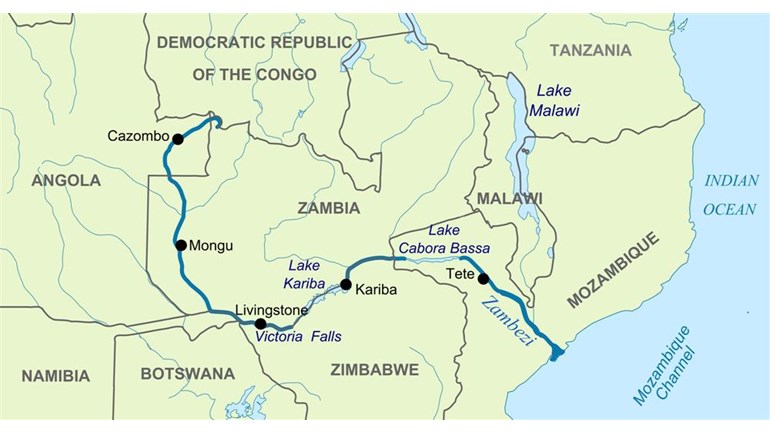 British explorer and adventurer Chaz Powell has embarked on quite an expedition. The experienced traveler and guide is in the middle of a journey during which he is attempting to walk the entire length of the Zambezi River in Africa – covering some 1600 miles (2574 km) in the process. His journey began in August in the Kalene Hills in North Western Zambia, where the source of the Zambezi lies. From there, his route will take him through Angola, Zambia and Mozambique where the river empties into the Indian Ocean.
Powell set out on what he calls The Wildest Journey last month, and has been making steady progress so far. In fact, just a few days back he posted that he had completed 1000 km (621 miles), which is about a third of the way towards the finish line. Along the way he has faced difficult weather conditions – including heat and humidity – , rough terrain, wild animals, and health issues, mainly due to dehydration and exhaustion. But, he has also trekked through some of the most remote and seldom visited sections of Africa, all the while sharing the experience on the expedition's Facebook page. That is a great place to get updates on his progress and see what it is like for him as he marches through this section of the world.
Chaz says that he expect the journey to take about six months to complete, and judging by his pace right now I'd say that he is pretty much on schedule to finish in that amount of time. That means he should reach the Indian Ocean sometime in early February, barring any unforeseen circumstances. Considering the challenges he faces along the way, injury or illness are certainly not out of the question, as is succumbing to exhaustion, equipment failure, or lack of supplies. So far however, he's been able to overcome or avoid those issues, and is pressing onward.
While The Wildest Journey is indeed quite an adventurous undertaking, Powell isn't doing it just for the safe of the journey alone. He's also using the expedition as a platform to raise funds for the David Sheperd Wildlife Foundation, an organization that is dedicated to saving endangered species in Asia and Africa. You can donate to that cause here.
Good luck to Chaz on the rest of his journey. I'll be following along with his progress and keeping tabs of how he's doing. Hopefully he'll reach the Indian Ocean safely and on schedule.
Latest posts by Kraig Becker
(see all)