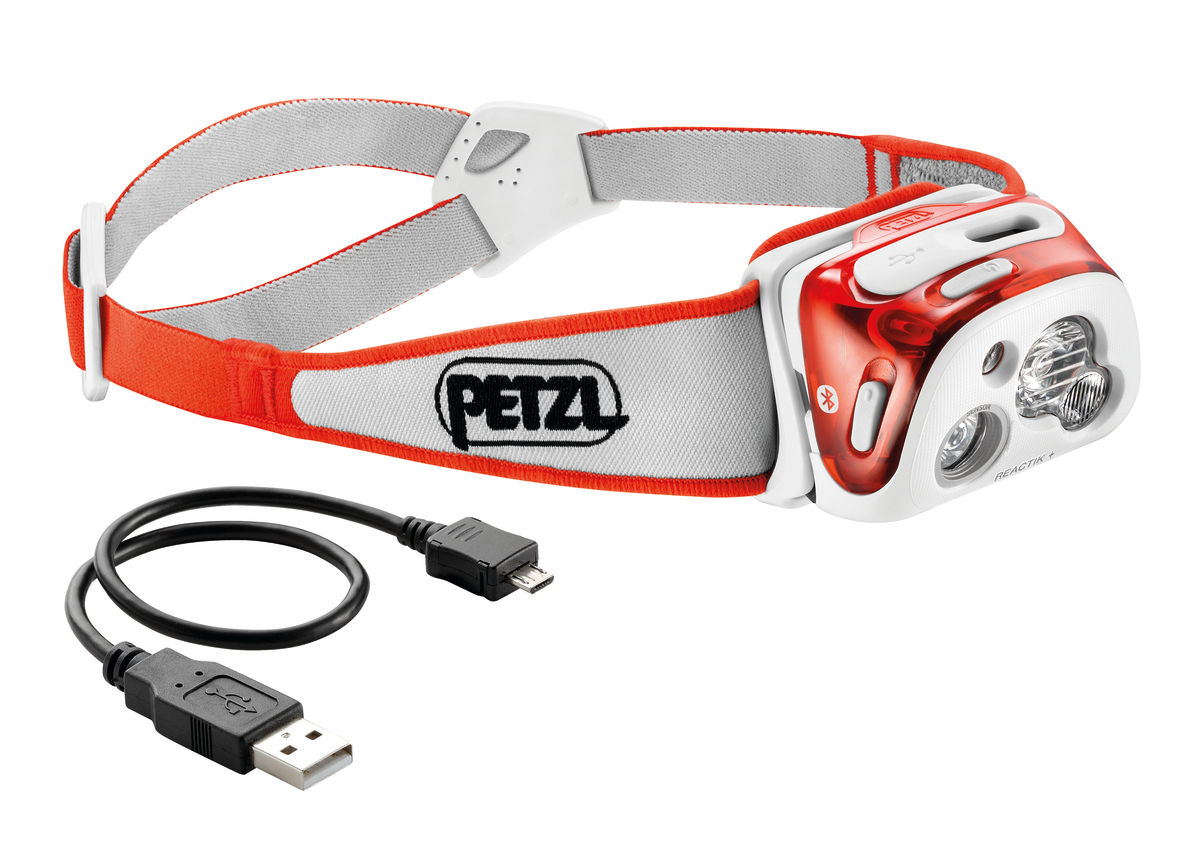 It seems all of our electronic gadgets are getting smarter these days. First came the smartphone of course, then tablet computers, and smartwatches too. Now, thanks to the the Reactik+ from Petzl, we can add "smart" headlamps to the list too.
What makes the Reactik+ so smart you ask? Well for starters, it comes with Bluetooth wireless technology baked in that allows it to connect to your smartphone and control its functionality using a special MyPetzl mobile app. That app gives users the ability to control the brightness of their lamp yourself, or tell it what type of activity you'll be doing, and for how long, which gives the device the ability to set its own brightness levels based on how much power is lift it is rechargeable battery. The app has preset profiles for sports like trail running, mountaineering, hiking, or simply just hanging out around the campsite. You can also add your own custom profiles as well, allowing you to dial in exactly the performance you need.
At its brightest setting, the Reactik+ can crank out as much as 300 lumens of light, which is plenty for just about anything you want to do outside. On that level, it the headlamp can run for about 2.5 hours, but you can adjust the burn time for 5 or 10 hours as well, and the lamp will automatically regulate itself to achieve that length of time. This ability to extend the life of the Reactik+'s battery comes in handy if you find yourself out on the trail for longer than you expected, or you don't have a handy way to recharge the device while in the field.

The Reactik+ has several different lighting modes to help you navigate through the darkness. For instance, it features a proximity beam that diffuse the light across a wider area, as well as a focused beam that acts as a bright spotlight for when you just need to see as far ahead as possible. Of course, it also comes with a red light mode, which is handy around he campsite when you don't want to burn out the retinas of your friends who are accompany you on your outdoor adventure.
Designed to be tough and weather resistant, I recently put this headlamp to the test on a backpacking trip to Bryce Canyon where the rain was coming down sideways. Despite those poor conditions however, the Reactik+ performed admirably, surviving some of the worst weather that part of the country has seen in years, and continuing to work well. After that experience, I feel confident that this light will work great in just about any weather, with perhaps the exception of extreme cold. Frigid temps can put a strain on the life of the built in rechargeable battery, although this is something that plagues most other headlamps too.
Other features of this headlamp that I really like include a washable headband, which is a must for those of us who live in warm climates and will run with this light on our heads. I also appreciate the ability to lock-out the power source, preventing the lamps from accidentally turning on while in our packs and running down the battery. Petzl has even given the headlamp the ability to use a standard battery pack that employs AA batteries for power instead. This battery pack is sold separately, but it is nice to have the option none the less.
In terms of performance, I love all of the technology that this headlamp brings to the table. It's "smart" features work great, and I appreciate its ability to dial in just the right level of lighting to get me through a long run or a night hike back to camp. The MyPetzl app is simple to use, connects to the Reactik+ quickly and easily, and is versatile enough to allow you to fine tune things to your own liking. My only complaint is that I wish it had Apple Watch support that would allow me to adjust the light's settings on the fly without having to retrieve my iPhone from my pack or wrist strap.
At $109.95, the Petzl Reactik+ is on the expensive side in terms of headlamps. But, if you're an active outdoor athlete who runs, bikes, climbs, or hikes a lot, you may very well appreciate all of the tech features that it brings to the table. As a gadget-nerd myself, I know I certainly do. However, if you're just looking for a very good headlamp that you can take with you on your adventures, the standard Reactik may be a better choice. It performs much the same way as the "+" model, but without the "smart" features. It also sells for $84.95, making it a bit less expensive. Either way, you'll get an excellent headlamp that is comfortable to wear, versatile to use in the field, and very powerful at lighting your way.
Purchase your Reactik+ at REI.com or CampSaver.com.

REACTIK + Bluetooth headlamp with Reactive Lighting Technology from Petzl-sport on Vimeo.
Latest posts by Kraig Becker
(see all)