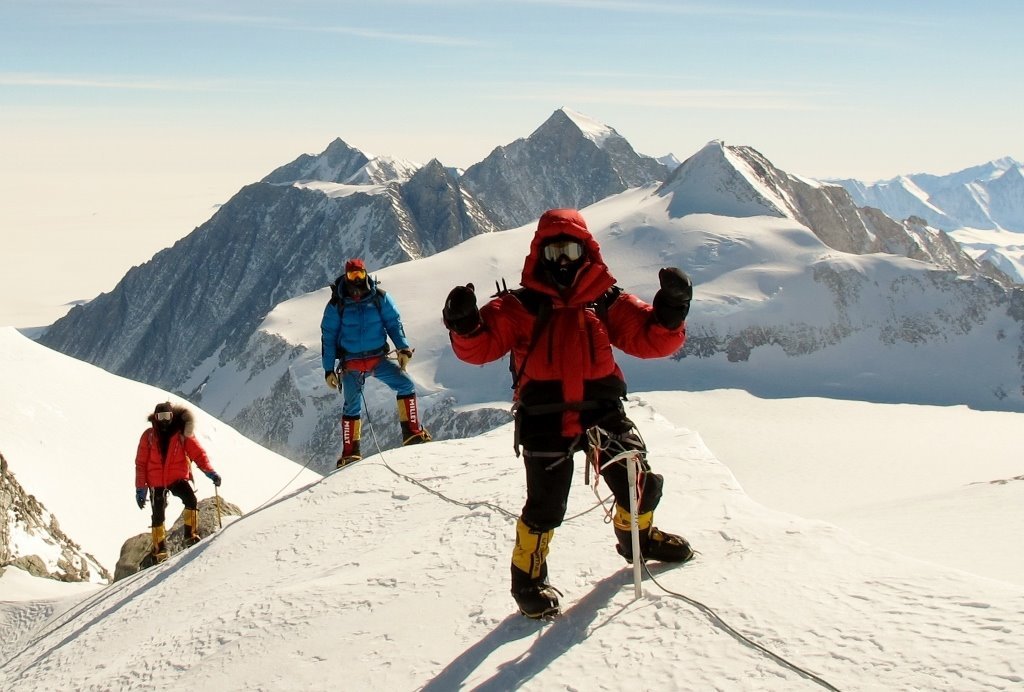 There isn't a lot to discuss today in terms of progress for the South Pole skiers since I posted an update yesterday. Presumably, explorer Mike Horn has started his traverse of the Antarctic continent, although he hasn't posted a dispatch as of yet. Meanwhile the other teams have put another day of hard work out on the ice behind them as they inch ever closer to their goals. But that doesn't mean there aren't interesting stories to share today as well, including an article that looks back at the history of mountaineering at the bottom of the world and a somber visit to the Antarctic by the family of a fallen hero.
First up, I wanted to share a rather interesting story that comes our way from the Adventure Travel Trade Association. The ATTA publishes a website called Adventure Travel News that mainly focuses on information that is of interest to its members. But, yesterday the site also posted an article entitled "Celebrating 50 Years of Antarctic Mountaineering," which takes a look back at the milestones for climbing on the frozen continent. That story begins with a 1966 American expedition that included alpinists Pete Schoening, Bill Long, John Evans, and Barry Corbet. That team went to the Antarctic to knock off the four highest peaks there, including Mount Vinson, the tallest mountain on the continent at 4892 meters (16,050 ft).
That might not seem like an incredibly high altitude when we routinely discuss expeditions to the Himalaya and Karakoram on this blog, but back in 1966 just getting to the start of the climb was a logistical challenge. On top of that, when you add in the extreme latitude of Vinson, it actually ends up climbing like a much taller mountain. And of course, the high winds and brutal temperatures experienced there create a challenge unlike any other.
As the article points out, climbing in Antarctica remained a strictly private affair for a couple more decades. It wasn't until 1983, when Dick Bass and Frank Wells climbed the mountain as part of the original Seven Summits bid, that anyone thought about making a commercial climb up the mountain. In 1986, those operations began as more people sought Seven Summit goals.

Over the years, Adventure Network International – now Antarctic Logistics & Expeditions – handled the organization of most of those teams, and continues to do so today. In celebration of the 50th anniversary of the first mountaineering expedition to the continent, ALE has organized five different climbs on Vinson this year. The first one completed last week, and the second is already underway and scheduled to wrap up on December 18. The three reaming expeditions will begin on December 18, December 29, and January 9 respectively.
Explorers Web has one other story of interest today. As you may recall, last year British polar explorer Henry Worsley lost his life in an attempt to ski solo and unassisted to the South Pole and back to his starting point on the coast. At the time, he was the hoping to become the first person to accomplish that feat, setting out with a sled filled with 150 kg (330 pounds) of gear and supplies. But, unfortunately he was never able to complete that mission, as he took ill while out on the ice. An emergency evacuation team picked him up and flew him to Chile, where he later passed away in a hospital there. It remains a truly sad story from a place that has has always been incredibly brutal on the explorers that travel there.
Now, ExWeb reports that Worsley's family has made the pilgrimage to Antarctica to experience the place that he loved so much. Over the course of his travels there, Henry made three full-distance expeditions to the Pole, and felt at home in the Antarctic. While this is obviously a somber experience for this family members who are now visiting that place as well, hopefully it also brings them some peace and solace too.
More updates as the news warrants.
Latest posts by Kraig Becker
(see all)