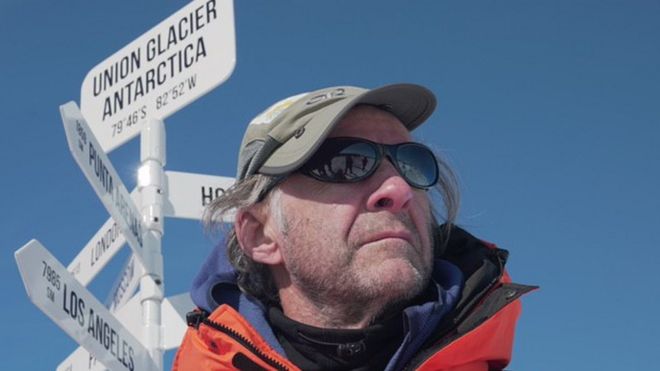 We have a few updates from the Antarctic today as we round out our adventure news heading into the weekend. For the most part, the South Pole skiers continue to press on, but we have updates on two legendary explorers who have Antarctic ambitions this year.
First, we have news that Sir Ranulph Fiennes has summited Mt. Vinson, the tallest peak on the Antarctic continent at 16,050 feet (4892 meters). At 72 years of age, Fiennes is making a return trip to the polar region that he has visited several times in the past. On his summit push he faced -40ºC/F temperatures and high winds, as he topped out in demanding conditions. The climb is part of the explorer's Global Reach Challenge, in which he is hoping to summit the remaining Seven Summits by May of next year. He has already knocked off Everest, Elbrus, and Kilimanjaro in that pursuit. He'll now face Aconcagua, Denali, and Carstensz Pyramid in the next few months. His goal is to raise  funds for the Marie Curie Foundation.
Sir Ran wasn't the only one to summit Vinson in the past few days. The RMI team, led by Dave Hahn, also topped out, putting every one of the group's five clients on the summit. They reported calm conditions on their summit day, going up and down safely from High Camp. They have since descended back down the mountain and caught a flight back to Union Glacier, so it looks like the squad will be headed back to Chile soon with their mission accomplished.
Meanwhile, Swiss explorer Mike Horn has now reached the Antarctic continent. He and his crew have been sailing across the Southern Ocean for the past couple of weeks in preparation for Horn's attempt to traverse the continent via the South Pole as part of his Pole 2 Pole expedition. Mike hasn't made landfall on the ice yet, but should be preparing to set off in the next few days. He'll then ski to 90ºS before proceeding back to the coast, where his ship – the Pangea – will be waiting to pick him up. From there, he'll continue the journey, eventually heading north to attempt a similar crossing of the Arctic.
ExWeb is reporting that solo skier Risto Hallikainen, who intends to travel to the South Pole and back, suffered snow blindness earlier in the week. This painful ailment is caused by sunburnt corneas on the eyes and causes temporary loss of vision. This slowed his progress for a few days, but he seems to be back on track. Risto has also lightened his load some by leaving a supply depot with food and fuel behind. He'll pick that cache back up again on his return trip.
Finally, the six-man British Military team skiing to the South Pole have now reached the halfway point of their journey. They've crossed the 85th degree and are now making good time towards their end point. Spirits seem high, and conditions have been warmer than expected so far, so all is good.
We'll have more updates from the Antarctic next week. Stay tuned.
Latest posts by Kraig Becker
(see all)