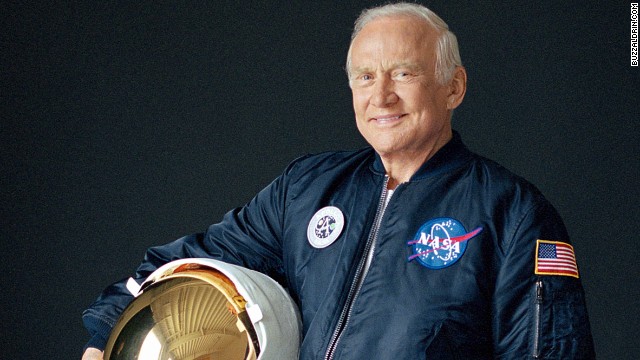 The legendary Buzz Aldrin is reportedly resting comfortably and recovering in a New Zealand hospital today after being evacuated from the South Pole yesterday for medical reasons. The 86-year old former astronaut and second man to walk on the moon, had been visiting Antarctica as a tourist when he took ill.
Aldrin was traveling with White Desert luxury tours and had hoped to visit the South Pole research station while in the Antarctic. Fortunately, he did make it to 90ºS before he became ill. Doctors say that he began collecting fluid in his lungs, which prompted the evacuation. While he is being kept in the hospital for observation, he is said to be doing fine and should have a full recovery.
Despite his age, Aldrin continues to be very active, and is a tireless advocate for exploration – particularly in space. He has been a major supporter of plans to go to Mars, and has spoken frequently about the importance of continuing to push boundaries beyond our own planet. He recently visited NASA for the unveiling of a new astronaut exhibit at Kennedy Space Center in Florida, before he left for Cape Town, South Africa to join the White Desert tour.
On November 28, Buzz and the rest of the group he was traveling with set out for the frozen continent on an itinerary that was expected to last about a week. But Aldrin took ill during the journey, with his condition getting worse as he reached the Pole. Once there, the decision was made to evacuate the moonwalker, and a specially equipped LC-130 aircraft was dispatched to fly him back to the coast where he caught another flight to New Zealand where he is now recovering.
I've always been a big admirer of Buzz Aldrin. Sure, Neil Armstrong got all the credit for being the first man to walk on the moon, but Buzz was only a couple of steps behind him. On top of that, Armstrong retreated from public life, seldom making appearances in his later years before passing away in 2012. But Buzz has always been a larger than life figure who isn't afraid to speak his mind or tell you his thoughts on any subject. He has used his position in the public eye to promote science and education, and has remained a staunch supporter of exploration in all its forms. Even now, at the age of 86, when most people are looking to slow down, he's still traveling to remote places on our planet. I hope that when I reach his age, I'm still half as active and vital as he is.
Get well soon Buzz. We're not ready to say goodbye to you for a very long time yet.
Latest posts by Kraig Becker
(see all)