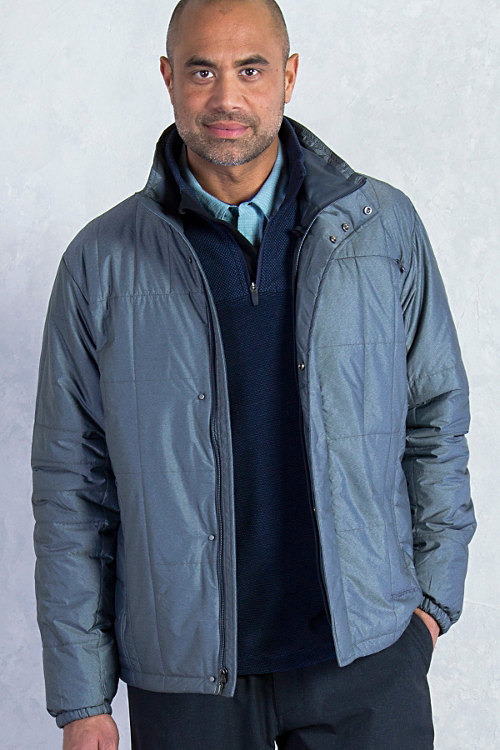 Looking for a lightweight, warm, and comfortable jacket for your cold weather travels? If so, you'll want to give the ExOfficio Cosimo a look. This jacket has everything travelers could possibly want, including a high degree of packability and versatility for use in practically any environment.
For those not familiar with ExOfficio, the company has been designing great gear for adventurous travelers for nearly 30 years. The brand can pretty much outfit you from head to toe in fashionable, high performance clothing that is designed from the ground up to keep us comfortable no matter where we might wander. I'm especially a fan of the company's BugsAway collection – which keeps biting insects at bay – and its underwear, which are the best I've found for taking on active adventures.
But of course, ExOfficio offers a wide variety of shirts, pants, jackets, and other garments as well. One of its newest is the Cosimo, which stylish enough for a jaunt around London or Paris, but performs at such a high level you'll want it with you in the Alps and Pyrenees too. And while it isn't as technical as something you might find from Mountain Hardwear or The North Face, that is actually a major benefit for those times you don't want to look like you just stumbled out of the wilderness.
Make no mistake, the Cosimo is indeed very warm and comfortable, without being thick and bulky. It accomplishes that feat by using Thinsulate, a synthetic insulation that has been around for years but continues to evolve in interesting ways. In this case, this material is put to good use by adding warmth without dramatically altering the look or thickness of the coat, something that every traveler can appreciate when they're packing for an extended trip in a cold climate.

One of the other advantages of Thinsulate is that it is very durable, and as a result the Cosimo shrugs off punishment very well. After wearing mine around for an extensive period of time while running errands, visiting the dog park, and taking hikes, it still looks like it is brand new. Better yet, its outer shell is easy to keep clean, and doesn't show wear and tear, which bodes well for when you want to take it with you on your travels. A jacket that is capable of surviving the rigors of the road, while still looking good, is a nice addition to any wardrobe. And since the Cosimo is also water resistant, you can wear it in inclement weather as well.
As a frequent traveler, I'll fully admit to having a preference for garments that are highly packable. I like clothes that don't take up much room in our suitcases, and can compress down to a small footprint too. The Cosimo performs well in this category as well, since it can be stuffed away into its own storage pocket, which doubles as a travel pillow in pinch. It is this level of versatility that has made me a fan of ExOfficio products for years, and keeps me coming back to the brand year in and year out.
Other nice design elements on the Cosimo include both a zipper and snap enclsoure on the the front, which is adds to the level of warmth in the jacket, and helps provide a higher level of protection against rain and snow. Additionally, all of the pockets – two hand pockets, a chest pocket, and an internal travel pocket – are also zippered, which helps provide an extra sense of security when you're stuffing valuable items – like a passport or smartphone – inside. ExOfficio also added a cinch cord in the hem that can tailor the fit of the jacket and help keep cold updrafts from reaching the interior.
As mentioned, one of the strengths of this jacket is that it looks a bit more fashionable when compared to some of the more technical jackets we review with regularity on The Adventure Blog. The Cosimo is one of those garments that looks right at home when you're exploring a new city, grabbing dinner at a fine restaurant, or heading out for a light hike. This is another aspect of the coat that makes it a good choice for travel, since it will be the only one you'll need to take with you. Sure, if I'm venturing into a place where it is going to be extremely cold, or I'm going to be taking part in some very active challenges, I might choose a different jacket to accompany me. But, for general travel needs the Cosimo will provide plenty of performance even in poor conditions.
The Cosimo is available in three versions: a vest ($145), standard jacket ($180), and a hooded version ($190). I tested the standard model, and obviously liked it very much, but I'd recommend spending the extra $10 and getting the hooded one, that is unless you absolutely don't like having a hood. The extra warmth and protection it provides is worth the few dollars more in my opinion, even if you only use it from time to time.
At first glance, it is easy to think that ExOfficio has priced this jacket a bit too high, after all we've seen other travel jackets that provide a great deal of comfort, warmth, and packability lately for less money. But, wearing is believing, and the Cosimo certainly delivers where you need it most. It is an excellent jacket for the price, and it offers classic good looks that will serve travelers well in a variety of destinations. For me, this is a great option to have at your disposal, and I think you'll appreciate everything that it brings to the table.
Find out more at ExOfficio.com.
Latest posts by Kraig Becker
(see all)