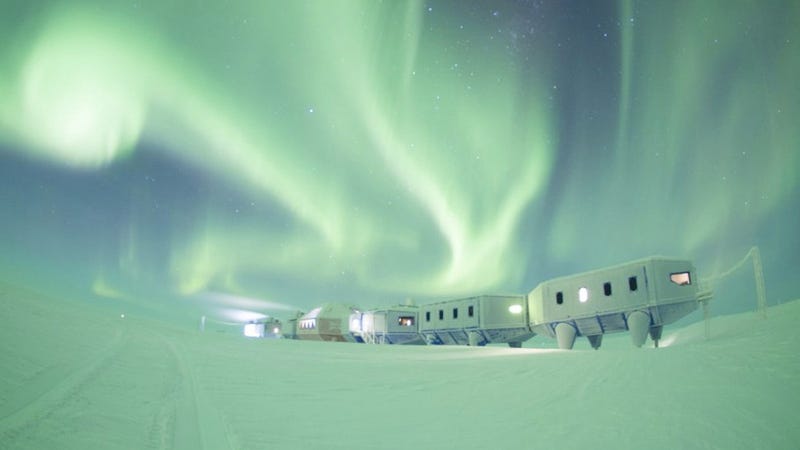 Yesterday I mentioned that the 2016-2017 Antarctic season is quickly coming to an end, and that updates would probably be few and far between moving forward. But, it turns out there is still more to tell, and although the end is indeed in sight, things aren't quite done yet. I have a couple of stories to share from the frozen continent, as well as a few corrections form my previous post too.
We'll start with an update on the Halley VI research station, which you might recall I wrote about back in early December. At the time, it was revealed that the station would have to be relocated due to a massive ice crack opening across the surface. That crack was forcing a large section of ice along the surface of the continent to shift towards the sea, and Halley VI found itself on the wrong side of the equation.
The original plan was to wait until this season was over, then close the base in preparation for moving it to a new – safer – location. Now, it has been announced that the research station has been shut down early as a precautionary measure, as another crack has been discovered near by that could expedite the shifting of the ice even further. Halley VI is in the process of being relocated however, so hopefully it will be repositioned in a safer location soon. The entire station was designed to be mobile, and is now being transferred to a spot some 23 km (14 miles) away from its current location.

Mike Horn has checked in today to say that he has had his best day yet out on the ice. After several days of light winds, the gusts returned in force, and as a result he covered an impressive 247 km (153 miles) as he makes his way to the far coast to rendezvous with his ship, the Pangea. From there, he'll make his way to the South Pacific, for a visit to New Zealand and Australia, before sailing north to attempt a traverse of the Arctic ice cap as well. The Swiss explorer reports that the landscape he was skiing through today has changed dramatically as well, with massive sastrugi and even crevasses reappearing. That could slow him down as he moves forward, but for now it is more of a nuisance than anything else.
Finally, I wanted to post a couple of corrections to yesterday's story. First, I reported that Emma Kelty had spent some time in the hospital due to dehydration and a lung infection. In fact, she did visit a hospital to get a dose of antibiotics, but didn't have to stay there for very long. It was a standard check in, and not at all the medical situation that I saw posted elsewhere. I also mentioned that she was out on the ice for 52 days, but I stand corrected in this area as well. It actually took her less than 51 days to complete her crossing of the frozen continent. Thanks for the corrections Emma!
And I also mentioned the Reedy Glacier Team yesterday and the remarkable job they did opening a new route to the South Pole. That squad consists of Keith Tuffley, Rob Smith, and Eric Phillips, which I indicated had traversed that route on skies. It turns out, Rob and Eric skied the entire distance, while Keith rode his bike at least half the way. Not a minor accomplishment to say the least.
Just wanted to get those house keeping duties out of the way. More updates to come as the news warrants it.
Latest posts by Kraig Becker
(see all)