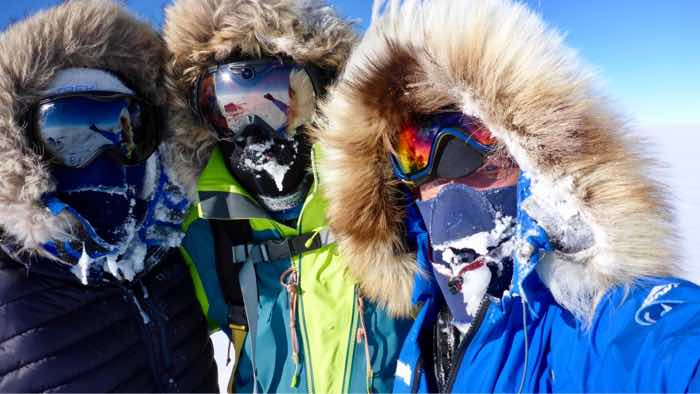 With time starting to run short at the bottom of the world, the teams skiing to the South Pole this season – and possibly beyond – are starting to feel the pinch. Most still have plenty of time to reach their final destination, but some are now altering their plans. With just three weeks to go until the season wraps up, it is crunch time on the Frozen Continent, and we should expect more arrivals at 90ºS shortly. In fact, two of the explorers should be at that point today.
First up, Emma Kelty expected to arrive at the Pole either yesterday or today, but she hasn't posted an update on where she is at just yet. She was closing in on her destination a few days back, but elected to slow down and savor her final days on the ice instead. Now, she should be at the Amundsen-Scott Research Station, although we're still awaiting word confirming that arrival.
If you've been following Emma's expedition you may be asking yourself why these are her "final days" on the ice. That's because she has decided to pull the plug on her efforts to ski back to Hercules Inlet. Because of a late start to the season – mostly due to weather delays – she simply doesn't have enough time to cover the 1285 km (700 miles) to get back to her starting point. On top of that, she has been battling a lung infection, which she has recovered from now, but it also served to slow her down some. Add in the fact that her supplies are dwindling too, and you can understand why she has given up on the idea of the return trip. Hopefully she is resting comfortably at the Pole right now, and awaiting a return flight to Union Glacier.
Emma isn't the only skier who is closing in on the South Pole. Mike Horn has made short work of his kite-ski journey, finding favorable winds over the past few days. Yesterday he covered 170 km (105 miles) alone, and is now within the last degree. That means that if he has any kind of wind today, he should arrive at the Pole in short order. Of course, this is just the midway point of his expedition, as he'll continue on to the coast where his shim – the Pangea – will be waiting to pick him up. Unlike most of the other skiers, Mike isn't working on a set timeline because he has his own lift off the continent. That said, if he continues at his current pace, it won't take him long to reach the coast again and continue on his Pole 2 Pole journey.

Finally, the Reedy Glacier Team of Keith Tuffley, Rob Smith, and Eric Phillips are also nearing the South Pole, although they still have a couple of days to go. The trio of explorers have opened up a new route to 90ºS by becoming the first people to traverse the glacier. They are also within the last degree of the Pole, and now expect to finish next Monday, January 9. The final days aren't going to be easy however, as the three men report bitterly cold conditions as the near the finish line.
That's it for now. I'll post another update sometime next week as we check in to see where everyone is at. The return skiers should be heading back at top speed now, while others will be wrapping up their expeditions altogether. It is a busy time as we near the end of the season.
Latest posts by Kraig Becker
(see all)