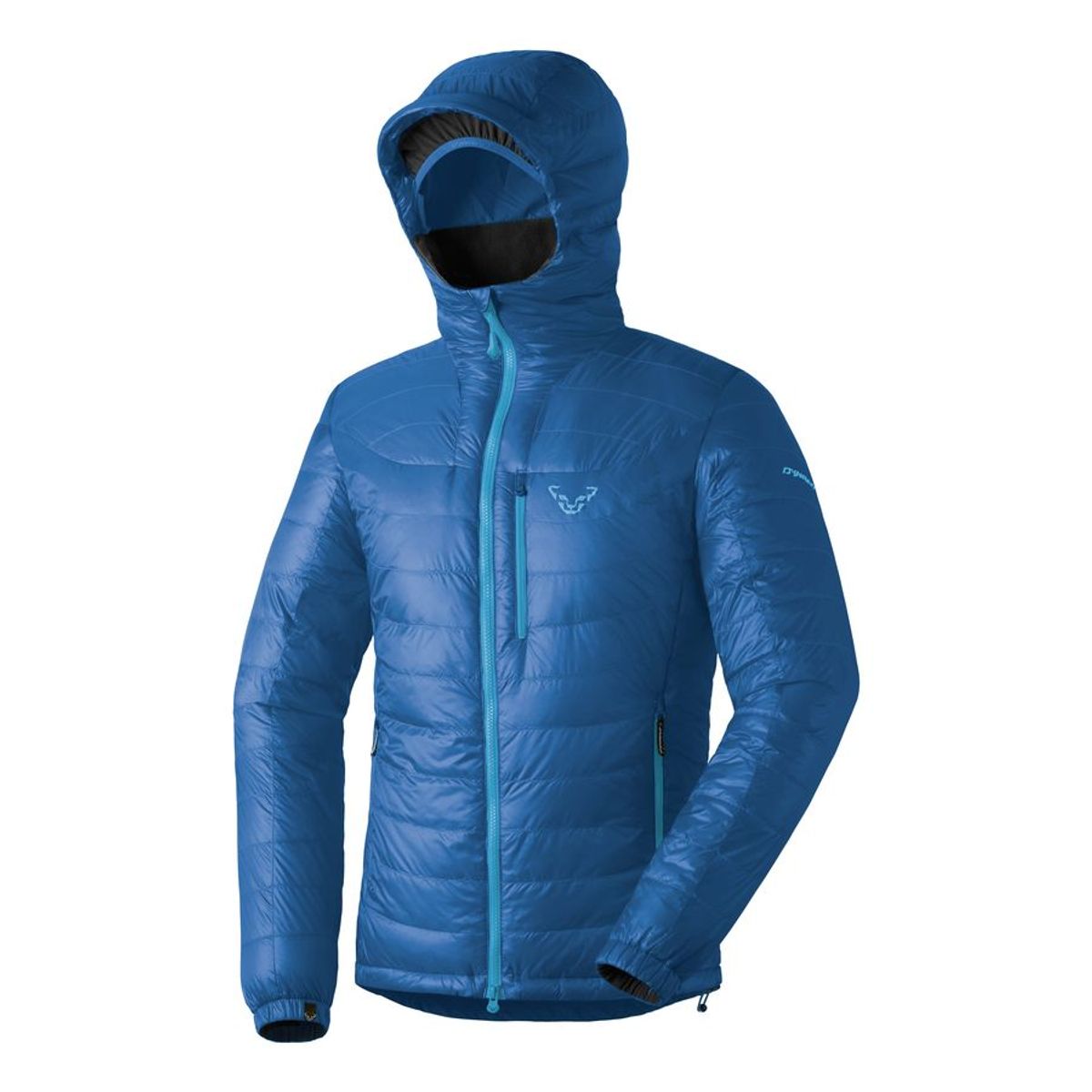 If there is one piece of gear that every outdoor enthusiast needs to have in their closet for winter, it is probably a good down jacket. This is the insulating layer that keeps us warm when the temperature starts to plummet, and it plays a vital role in allowing us to play outdoors longer, even when the weather is less than favorable.
Over the past couple of weeks – as the temperature has been on a roller coaster ride where I live – I've had the chance to test out a new down jacket from
Dynafit
that I've found to be exceptionally warm and comfortable. In fact, I'd say that the
Cho Oyu Jacket
is easily amongst the best that I've ever worn, and if you're in the market for something new in this category you'll want to have it on your list.
Made with a durable ripstop fabric covered in a DWR finish, and insulated with
DownTek
hydrophobic down, this jacket is built for use in a wide variety of conditions. In fact, I've worn in cold temperatures, freezing rain, freezing fog, drizzle, flurries, and even outright downpours, and it has performed fantastically in all cases. The water-resistant down never loses its loft, and continues to perform well even as the jacket gets wet, although the DWR coating also plays a big role in ensuring that you stay warm and dry no matter what's happening around you. 
With its athletic cut, the Cho Oyu – named for the 8000 meter peak – hugs the wearers body snugly, which helps in keeping warm air trapped inside. But, at the same time, the jacket doesn't impede movement in any way, allowing you to stay fully in control on the slopes or on the trail in the backcountry. I personally hate feeling like my layers are restricting my motion in any way, but with this jacket I don't have to worry about that. In fact, aside from perhaps the new
Mountain Hardwear StretchDown puffy
, this might be the best jacket I've worn in terms of not getting in the way of your natural athletic motion. 
Other nice features of the Cho Oyu include a comfortable hood that is helmet compatible, and an adjustable hem that makes it easy to adjust the fit. This comes in especially handy for keeping cold winds and snow from reaching the interior of the coat, which is obviously something we all can appreciate. The jacket also has four pockets, including two hand-warming pockets and a zippered chest pocket on the front, and an interior pocket that doubles as a stuff sack when packing for a trip. 
After wearing this jacket in a number of different capacities over the past few weeks, I've come away very impressed with how well it performs in pretty much every capacity. Not only is it very warm, but it is super-comfortable to wear too. On top of that, it is also incredibly durable too, shrugging off wear and tear and with ease. I've also found that it is easy to keep clean too, and does a good job of venting excess heat and moisture when things start to get active. 
One of the aspects of this jacket that has been both pleasant and confounding at the same time are the zippers. On the one hand, they may be the smoothest, easiest pulling zippers I've ever used, but at times I've found myself struggling to get the jacket closed too. That's because the Cho Oyu uses a double-zipper system on the front, which is handy when you want to keep your chest warm, but vent out excess heat at the same time. But, when first closing up the jacket, it can be a bit of a challenge to get things started, in part because of the second zipper. Sometimes it works like a charm, and at other times I find myself working hard to get it seal up properly. After wearing this coat many times, I think I've finally got it down to a science, but it was a bit vexing at first. Most of this challenge probably was the result of user error, but it is important to point this out nonetheless. 
The Dynafit Cho Oyu down jacket is an exceptional piece of gear, and one that I recommend without question. But, it also comes with a steep price tag. The jacket sells for $319.95, which makes it amongst the more expensive coats that I've reviewed. That probably puts it out of reach for the average consumer, but if you're an outdoor athlete who doesn't want to compromise performance in the winter, this jacket should be in your closet. It is a fantastic layer for skiers, snowboarders snowshoers, or anyone else who likes to play outdoors in the cold weather. Yes, it is an expensive piece of gear. But it is also worth every damn penny. 
Latest posts by Kraig Becker
(see all)