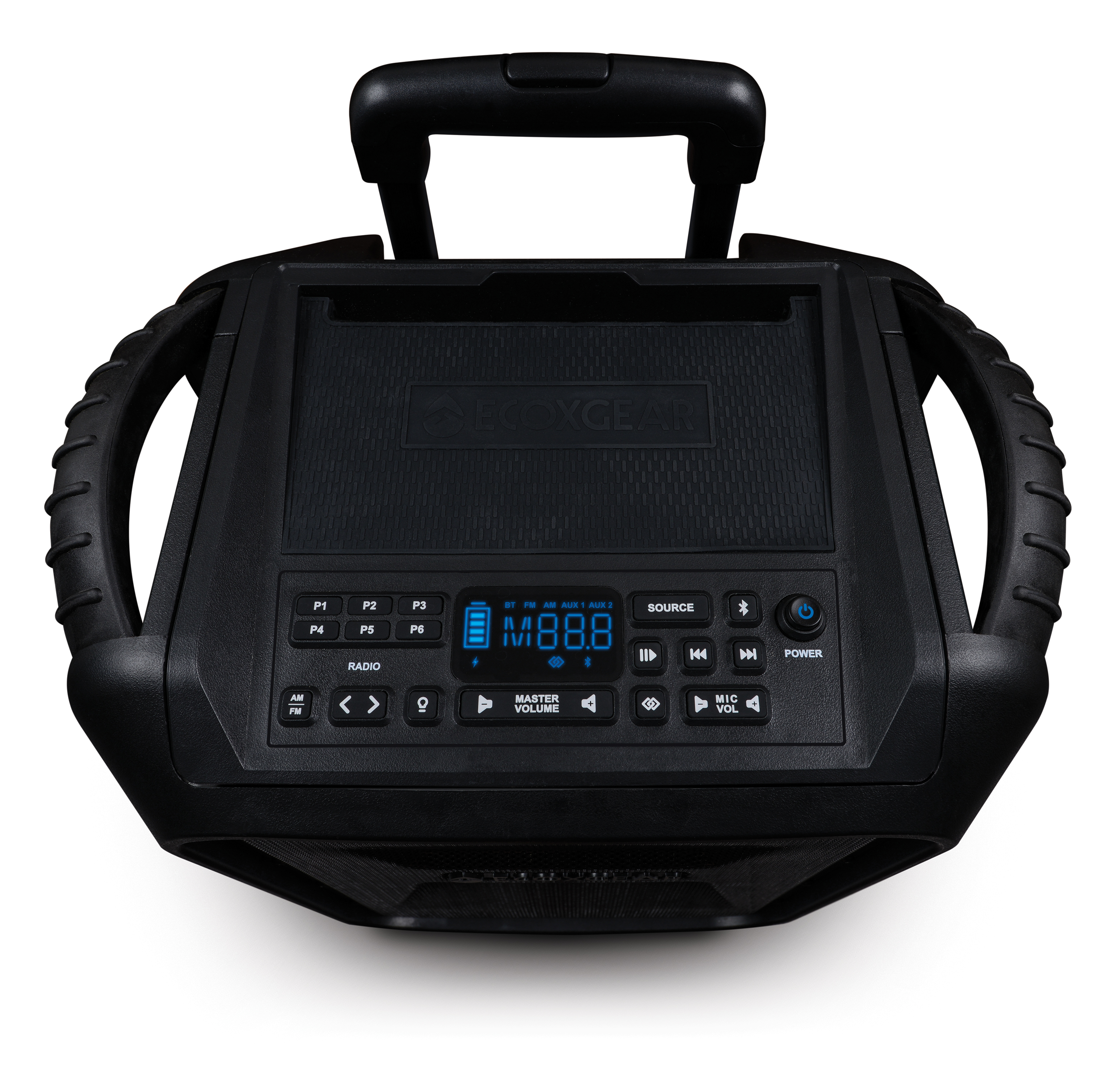 In recent year, I've been fortunate enough to test a number of small, compact, and amazing sounding Bluetooth speakers designed to carry with you on your travels. I want to start this review by saying that the EcoBoulder from ECOXGEAR is not one of them. Don't get me wrong, the EcoBoulder does sound amazing, but it is anything but compact and lightweight. However, what it sacrifices in mobility it more than makes up for in other ways.
Somewhat resembling a carry-on suitcase, both in shape and size, the EcoBoulder includes a set of durable wheels and a telescoping handle that help to make it easier to move about. This large, wireless speaker features 100 watts of total power, which allows it to crank out impressive levels of sound. When used indoors, it can fill a large room or even a house with music, while outdoors it easily overpowers any ambient sounds that might be in the area. And with a massive battery to go along with its massive size, the EcoBoulder can keep the party rocking for up to ten hours without needing a recharge.
Often times with large Bluetooth speakers, you're forced to sacrifice audio quality in favor of higher levels of volume. That isn't the case here however, as the Boulder does a fine job of not just recreating impressive sounding bass, but also showing off its ability to share mid- and high notes too. The result is excellent sounding music, even when the volume is cranked up incredibly high. I have yet to hear distortion of any kind, and at the full audio spectrum comes through very cleanly.
As with all of ECOXGEAR's products, the EcoBoulder is built for use in the outdoors. It features an IP67 rating, which makes it completely waterproof and dust proof, as well as ruggedized against accidental drops. In deed, this speaker is built like a tank and could certainly take a lot of punishment if it had to. It can even float in water, which allows it to be used in environments where other speakers wouldn't dare to go.

Chances are you won't abuse it too much, although it could certainly survive just fine at your next campsite, provided that campsite is not too far from the car. At 27 pounds (12.2 kg), this is a speaker that lives up to its name, both in size and stature. But thanks to its wheels and handle, you can move it about very easily. Mine has transported smoothly between two houses while moving, and in and out of my backyard with any difficult at all.
The EcoBoulder utilizes Bluetooth 4.1 technology to quickly and easily pair with a smartphone, tablet, or other device. Once connected, those gadgets can stream music, podcasts, audiobooks, or whatever else you care to listen to from up to 100 feet away. And if you happen to have a device that isn't Bluetooth compatible, the speaker also has a standard 3.5 mm audio jack to plug a source into it directly.
Other nice features include two built in USB port for charging mobile devices, both of which are found inside a waterproof compartment designed to keep your smartphone safe from the elements. The EcoBoulder also comes with backlit buttons and a bright screen that make it easy to use even in the dark, and it has a microphone-in port to use it as a PA or karaoke system too. The speaker even has a built-in AM/FM radio to listen to local stations as well. And as with all new speakers from ECOXGEAR, two of the units can be paired to one another to produce even more sound.
Obviously this is not a speaker that you'll be taking with you into the backcountry or when traveling to the far side of the planet. It is a fantastic speaker for use around the house however, and it sounds amazing in the backyard. It is also fantastic for car camping excursions, while tailgating, or at other  outdoor events. Thanks to its built in wheel and handle, the EcoBoulder is surprisingly portable, despite its size. Which ultimately means you'll probably find more places to use it than even you first thought.
If you're in the market for a big Bluetooth speaker with big sound, the EcoBoulder is your best choice. It is loud, clear, and impressive sounding in every way, and it is built to survive just about anything short of a nuclear blast. On top of that, this is a versatile speaker with a host of extra features that you don't always find elsewhere. Fully water and dust proof? Check! USB charging ports? Yep! Microphone and auxiliary in? Uh-huh! This speaker has it all, and it more.
Priced at $249.99, I feel the EcoBoulder is even a good bargain. Sure, you can find other Bluetooth speakers for less money, but none that offer all of the features listed above, and such outstanding sound. This is an impressive beast, and I think you'll come to love it as much as I do.
Find out more at ecoxgear.com.
Latest posts by Kraig Becker
(see all)