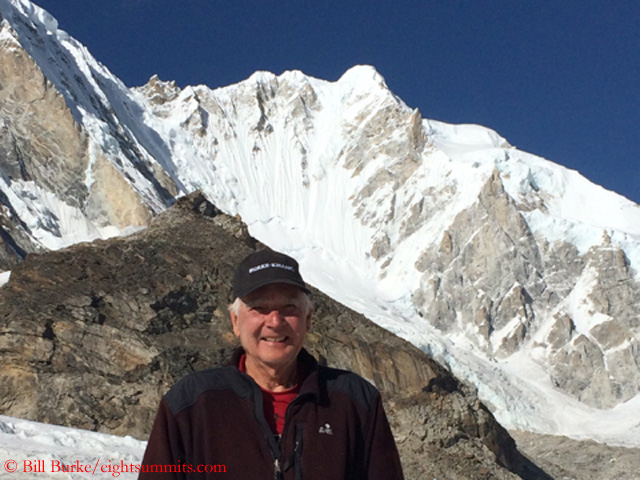 Over the past couple of climbing seasons in the Himalaya, one of the mountains that we've watched closely has been Burke-Khang, an unclimbed 6942 meter (22,775 ft) peak located in the  Solukhumbu region of Nepal not far from Mt. Everest and Cho Oyu. The mountain is named after American climber Bill Burke, who has spent the past couple of years trying to complete the first ascent of the peak that bears his name. Those efforts have been stymied by bad weather, and in some cases bad luck, so far but, and after not being able to summit last year, it looked like it might be awhile before anyone would try again. But, it turns out that a new expedition is in the works, and Bill will once again be taking a crack at the mountain.
In a recent blog post on his website, Bill wrote "It's a Go!" regarding a new expedition to take place this spring. Apparently, the team of Sherpas that he works with on this climb have made a reconnaissance flight over Burke-Khang and have spotted a route that will take the team up the mountain more safely. Last year's attempt was blocked by a dangerous icefall, but in the months since they were last there, the seracs that made up the icefall have collapsed, clearing the way forward.
Bill says that there are still a few crevasses to traverse, but the snow is reportedly in good condition and the route up is much safer and more straightforward. There are a few sections of blue ice to climb, and the headwall on the way to the summit is described as "steep," but everyone is feeling much better about their chances heading into the 2017 season.
Burke left for Kathmandu on March 1 and should now be in Nepal and making plans for the start of the expedition. Hopefully, after two years of being denied the chance, he'll finally stand on top of his namesake mountain at long last.
We'll be following Bill's progress and adding a number of other expeditions to our line-up in the days ahead. The start of the season isn't as far off as it would seem at this point and things will start to get very interesting in just a few weeks time. Stay tuned.
Latest posts by Kraig Becker
(see all)