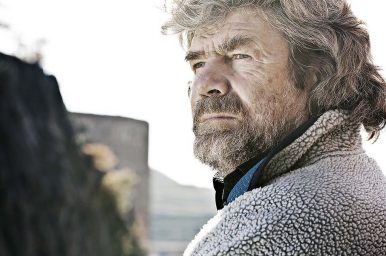 Italian climbing legend Reinhold Messner has weighed in on the current state of affairs on Everest, and where mountaineering on the world's highest peak is headed, and as usual his thoughts are quite fascinating. Messner recently spoke with The Diplomat about these subjects and more, bringing his years of vast experience and knowledge to the table. In his typical style, the iconic climber doesn't mince too many words.
In the interview, Messner talks about the crowded conditions on Everest, and the guided climbs to the summit that are now very different than when he made his famous ascents on the mountain. In describing what it is like there, the Italian says that it is not alpinism but is instead tourism. A very different game than previous generations. He also says that with the path more well prepared and set out for the climbers to follow, the sense of adventure and exploration is gone. It is simply a guided trip to the top of the world.
The Italian also discusses the growing sense of resentment amongst Sherpas and how that has led to more locally owned trekking and climbing companies in Nepal. Those companies are able to offer less expensive trips into the mountain, and as a result they are slowly but surely eroding the business of foreign operators. That will have a dramatic impact on the future of climbing on Everest. Those same Sherpa are also now very experienced and talented mountaineers in their own right, and no longer need to follow the foreign climbers up the slopes.
Messner goes on to touch on the dangers of climbing the mountain, the fact that no one listens to the danger signs until it is too late, and the fact that so man inexperienced climbers are traveling to the Himalaya. He also talks about his relationship to Buddhism and his hopes for a free and autonomous Tibet, amongst other topics.
Most of what Messner talks about isn't especially new, and anyone who follows the climbing scene on Everest probably is aware of the things that are going on there. Still, it is always interesting to hear a man of his prominence and stature share his opinion on where mountaineering was, where its at now, and where it is heading. Check out the full text of the interview here.
Latest posts by Kraig Becker
(see all)