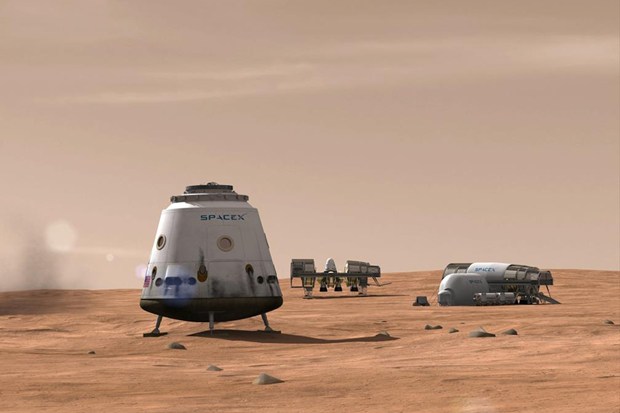 Billionaire tech-wizard Elon Musk has big ambitions for Space X, the company he founded to make commercial space travel a reality. In the past, he has talked openly about the potential for making routine flights into Earth orbit (something Space X is already doing, albeit with unmanned spacecraft), and he has even announced plans to send travelers to the moon as early as next year. Beyond that however, Musk has waxed philosophically about colonizing Mars, which has seemed like a pipe dream for many of us who have longed to see man step foot on another planet. Many have been dismissive of those plans, but now Musk is offering up insights into how he could make such a project a reality.
Musk has published
a story in this month's issue of New Space magazine
 that provides an outline of how he is approaching the potential for a colony on Mars. To do that, he must first bring the cost of space travel down significantly, something that Space X is working on all the time. Musk estimates that by today's standards, a flight to Mars would cost about $10 billion, making it far too expensive of an undertaking. But, he would like to see that cost reduced to about $200,000 and he has a plan for how to make that happen. 
According to Elon, there are several things that need to happen to make a spaceflight to Mars more approachable. First, the entire spacecraft needs to be reusable, including the rockets, second stages, capsule, landing craft and so on. This is a major element to what Space is already doing, and it's helping to make the company's rockets a cost effective way to deliver payloads into space. 
Beyond that however, Musk says that the interplanetary craft used to travel to Mars would need to be refueled in space in order to efficiently make its way towards the Red planet. Next, it would also need to be able to be refueled on Mars as well. To do that, the Billionaire says that methane might be the answer, as it is inexpensive and easy to reproduce. 
Finally, Musk also provides some rough details about the spacecraft itself, describing its design, interior, propulsion system, and so on. He even discusses a timeline for such a project, which is still years away of course, but something that he has clearly put some serious thought into. 
The entire New Space article is based on Elon's presentation entitled "Making Humans a Multiplanetary Species," which you can watch below. While this project is obviously near and dear to his heart, and it is still a long way off, I do applaud his efforts to take us further out into space. It will be interesting to watch this unfold. 
Latest posts by Kraig Becker
(see all)