When Apple announced that it would drop the headphone jack from its iPhone 7 last year, there was a lot of wringing of hands amongst pundits across the Internet. Many lamented the fact that they would no longer be able to use their standard, wired headphones (which proved false thanks to an included dongle), while others embraced the idea of adopting wireless headphones instead. Since then, a number of other smartphone users have also released devices without the venerable headphone port, and wireless earbud adoption amongst outdoor athletes has really taken off.
Personally, I'd made the switch to wireless earbuds a long time ago, and really haven't looked back. The freedom that comes with using this type of earphone is fantastic, and difficult to overstate. So much so that recently when I had to use standard wired earbuds again, it felt weird and very constraining.
That said, I know that buying wireless earbuds can be an expensive proposition, even as more options become available. Recently, I've been testing a pair of very affordable options however, proving that inexpensive options are available, while also reminding us that you usually get what you pay for.
Both models come from a company called Syllable, and both can be had for a fraction of the price those offered from the competition. If sound quality isn't a primary concern, chances are you'll be quite satisfied with what they bring to the table.  Let's take a look.
Syllable D900 Mini Earbuds
As wireless earbuds have taken off over the past year, we've seen a rise in options that bill themselves as "true wireless." That is to say, that these models don't have any wires at all, including one that connects between the two earphones themselves. Instead, these units connect to a smartphone via Bluetooth and then pair with one another as well to provide stereo sound. While they tend to be a bit more expensive, and have more limited battery life, these earbuds do provide a new level of freedom that runners and other outdoor athletes are going to love. In fact, after testing the Syllable D900 Mini for several weeks, I can honestly say that I am a complete convert.

When I first started using these earphones they felt rather large in my ears, although after wearing them a time or two, I quickly got use to them. At first, I was also afraid they would pop out of my ears mid-run, and that did actually happen with the right earbud one or twice before I switched out he silicon tip for a better fit. Syllable ships the earbuds with three different tips to help users find the one that works best for them, but I would have liked to have had one or two more options. While my left ear works great with the standard tip right out of the box, it has been a struggle to get the right one to match that same level. But, after using them for awhile, I've simply learned to reach up from time to time to ensure that the tiny speaker is staying in place.
The D900 Mini earbuds deliver average sound quality at best. While they certainly aren't awful, there are better options available if your primary concern is audio reproduction, although you'll have to keep in mind that those models will come at a much higher price. Don't get me wrong, these sound just fine when I'm exercising, and I personally have few complaints. But, if you're thinking of using these as your primary earphones on a day-to-day basis, you'll likely notice muddled audio here and there. Bass is practically nonexistent as well and the volume isn't overwhelming either. Additionally, from time to time I will hear audio artifacts and odd syncing issues between the two earbuds, although those occurrences are fairly rare and usually correct themselves quickly. For what I use them for, they sound just fine and I've accepted their limitations in favor of their great price and true wireless freedom.
As you would expect in 2017, pairing these earbuds is seamless and easy using Bluetooth 4.1 connectivity. It takes just a matter of a couple of seconds and you're off and running. Because of their diminutive size, volume is adjusted on the smartphone and there are few other controls on the earbuds themselves. Other than turning them off and on, the lone button on each earphone can be tapped to pause playback.
Battery life on these small earbuds is about two hours, which is just enough for me to get through a long run. As a result, I have to charge them pretty much every day, which is a bit of hassle to alway remember. The D900 Minis come with a special charging box that itself has a battery built-in that can provide 4-6 recharges before it needs to be re-energized as well. The box feels rather cheap, especially compared to some of those offered by the competition. It also takes a bit of practice to ensure that you get each earbud exactly in place for charing to start. Blue LEDs illuminate to indicate charging has begun, but that can be misleading as the earbuds can lose contact with the charging elements. Instead, look for a tiny red light on each earphone to let you know that they are indeed charging. (Note: be sure to remove the tiny transparent stickers over the charging elements on the earbuds before charing for the first time)
I have referenced the price of these earbuds multiple times in this review and it is truly the great equalizer for this product. Yes, audio quality is average, the charging case is cheap and flimsy, and there are a few design flaws that I'd like to see addressed in future models. But, since they are priced at just $49.99 on Amazon.com, it is easy to overlook some of these issues. That's incredibly affordable, making a truly wireless option within the reach of just about everyone. If you've been looking to take the plunge, this is a way to do it without putting too much of a pinch on your wallet.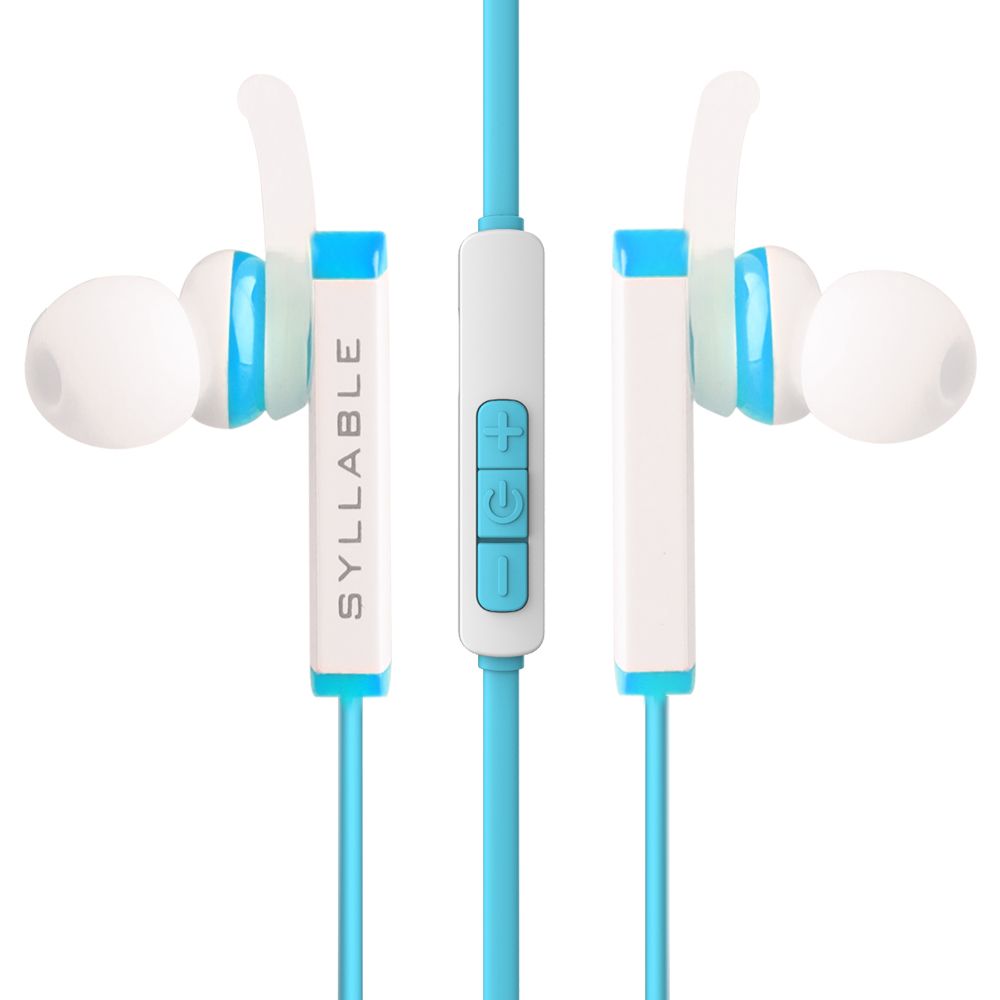 Syllable D300 Earbuds
For a more traditional wireless earbud option, check out Syllable's D300 model. Like many other similar options, the two earbuds on this version are connected by a thin wire that is water and sweat proof, and durable enough to survive our outdoor adventures. This allows the device to have an onboard remote control for adjusting volume, pausing playback, skipping tracks, and so on. It also allows for increased battery life too.
As with the D900 Mini, audio quality for the D300 isn't its strong point. Once again, it isn't especially offensive to those of us who are non-audiophiles, but it won't blow you away either. It is solid, particularly for use when running, riding, or being active in general. But if you're sitting back, relaxing, and really taking in the music, you'll be less than impressed.
Battery life on the D300 is extended out to 4 hours, which is a big improvement over the Minis, but isn't close to what I get from my other earbuds from the competition. One of the complaints about wireless earbuds is that they are useless when the battery dies, requiring us to remember to recharge them often. This becomes more of an issue when battery life is half that of some other models on the market.
Syllable includes a few extra silicon earbud tips with this model, making it easier to find the right fit. I didn't have nearly as many issues with keeping these in my ears, and when I found the right tips to use, they stayed put quite nicely. They are also comfortable to wear over extended periods of time, which is much appreciated when you decide to train for longer distances both on foot and the bike.
Once again, the price is a big selling point for these earbuds. They sell for just $29.99 on Amazon, which is very attractive for anyone looking for a solid pair of wireless earphones for their workouts. Make no mistake, there are better options available, but you'll be hard pressed to find anything else in this price range that performs as well.
Latest posts by Kraig Becker
(see all)