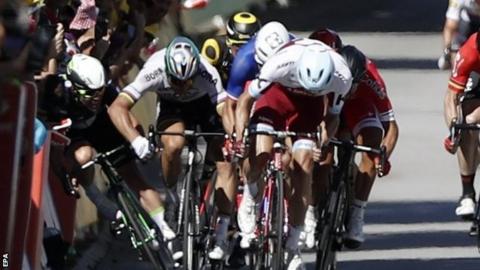 I promised I'd keep my Tour de France coverage to a minimum this year, and so far I've held to that vow tightly, despite watching each of the stages live so far. But, with the first week now in the books, it is worth talking about how things are unfolding so far and where we're going in the days ahead.
The world's biggest bike race got underway last Saturday with a time trial in Dusseldorf. That stage set the tempo for the race so far, with Team Sky rider Geraint Thomas taking the top honors and donning the Yellow Jersey before setting out on the first road stages of the year. Thomas was a bit of a surprise winner, but it has forced Sky to defend the jersey earlier than expected. He held on to the Maillot Jaune until Wedenesday of this week when the riders took on the first mountain stage of the 2017 Tour, which was won by Italian champion Fabio Aru, and put race favorite Chris Froome in yellow.
At this point, no one would be surprised if Froome kept that jersey all the way to Paris. He has shown that he is a more than capable rider in the past, having already won the race on three separate occasions. It will be a tough challenge for  Team Sky to defend yellow from wire-to-wire, but the entire squad is riding very well and look to be controlling the pace of the race as they have in years past. At this point, it looks like it could be incredibly tough for anyone to challenge them, or pull the jersey from Froome's back.
As for Froome's rivals, most lost time in the initial time trial and have struggled to make up anything ever since. Aru showed that he could be the surprise challenger, and is currently just 14 seconds back, but pre-race favorites Nairo Quintana and Richie Porte seem like they aren't ready – at least at this stage – to truly challenge the defending champ. Both will have opportunities in the days ahead, but as of now neither looks ready to go head to head with Froome, let alone crack him on a climb and take back precious time.

Of course, the biggest news of the week is the disqualification of Peter Sagan following the crash of Mark Cavendish on stage 4. A lot has already been said about this, and now the event is well behind us. But, I'm going on the record as saying that the DQ was uncalled for, and ended up putting not just one, but two of the sports' biggest names on the sidelines. The entire incident was unfortunate, by in my mind it was Cavendish that caused the crash in the first place by initiating contact with Sagan and trying to push through a line that wasn't there. I do believe that Sagan should have been docked points and time for his reaction, but a DQ was too harsh. There is nothing to be done about it now however, so as fans we just have to move on. Hopefully Cav will recover from his injuries soon, and we'll see both men competing with one another in the near future.
With Sagan out of the race, the fight for the Green Jersey that goes to the top sprinter is wide open. The Slovakian rider has had a stranglehold on that competition for the past five years, and will likely win it several more times in the years ahead. But this year, there are a number of contenders who can now take that title. Marcel Kittle looks like the leading candidate right now, especially with three stage wins in the first week. But, there is a lot of racing to go, and sprint points will be available for a number of riders to grab in the days ahead.
Heading into the weekend we have a couple of more mountain stages to get excited about. We should see just how well Froome is riding at this point and we'll have to watch for any of his rivals to make a move or falter. But, that said, it is still very early in the race, so I wouldn't expect too much to happen. I'd guess that we'll come out of the weekend and head into the first rest day next Monday, with most of the contenders in the exact same spots that they currently hold.
My biggest fear for the race is that it will be a boring ride into Paris. Froome has been so dominant in the past that hardly anyone has been able to push him. When you throw in the fact that most riders are very conservative in their approach, we could have two more weeks of riding without much in the way of drama. Of course, a lot can happen between now and then, so we'll just have to sit back and see how things unfold.
Thanks for indulging my TdF obsession. We now return to your originally scheduled adventure coverage.
Latest posts by Kraig Becker
(see all)