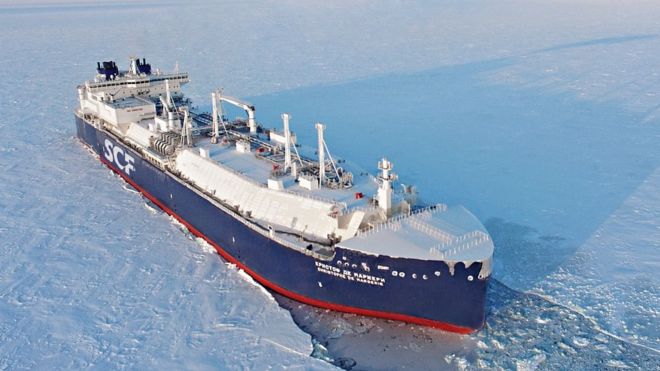 A Russian tanker has set a dubious record by becoming the first merchant vessel to complete a voyage across the Northern Sea from Europe to Asia without the use of an icebreaker. The ship was able to complete that journey in a record time as well, indicating that climate change is making these routes more accessible.
According to this story from the BBC, the 300-metre-long Sovcomflot ship, known as the Christophe de Margerie, was en route from Norway to South Korea carrying natural gas in its hold. The vessel does have a reinforced hull and is capable of pushing through ice up to 2.1 meters (6.8 ft) thick on its own, making it uniquely qualified to travel in Arctic conditions.
But, the Northern Sea is typically more treacherous than it has been in recent years, which allowed the ship to maintain an average speed of about 14 knots, well above what it would have been able to do were it following an icebreaker. As a result, the entire voyage was completed in just 19 days, which is 30% faster than if it had traveled south through the Atlantic, entered the Mediterranean, and proceeded through the Suez Canal.
According to the article, the Arctic sea ice has hit a record low for the third year in a row, which is making travel across the Arctic and Northern Seas far more common. Last year, 19 ships made the full transit from the Atlantic to the Pacific along the same path as the Christophe de Margerie despite the high insurance costs and potential dangers. Those numbers are only expected to grow in 2017 and in the years to come.
There was a time when navigating these oceans was nearly impossible, with only small ships, helmed by daring adventurers, taking up the challenge. Those individuals are still seeking adventure along these northern waterways, but they are finding more and more commercial vessels along those routes too. With pack ice continuing to retreat, it now seems that the Northwest and Northeast Passages will soon become a common way to travel from the Atlantic to the Pacific and back again. That's probably good news for commercial transport vessels, but what it means for rising sea levels remains to be seen.
Latest posts by Kraig Becker
(see all)