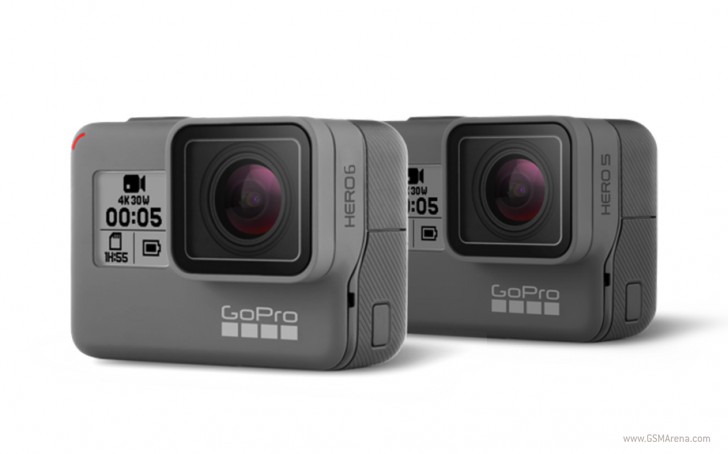 It was a big day yesterday for GoPro, the company that practically invented the action cam but has struggled financially over the past few years. In a press conference held in San Francisco, CEO Nick Woodman took to the stage to not only reveal a couple of new products, but also chart the course for the future as well.
The first major announcement is the immediate release of the new Hero6 camera, which sports a similar design from the Hero5, but with some updated specs for better all around performance. Thanks to its new "GP1" processor, which was developed in-house, the Hero6 can now capture 4k video footage at up to 60 fps, with similar advancements at all other resolutions as well. For instance, 1080p HD footage can be shot at an impressive 240 fps. The camera also has onboard image stabilization, is waterproof down to 33 feet, and better low-light performance as well.
The Hero6 also comes with a new "QuickStories" feature that allows the user to capture footage, have the camera automatically edit it, and prepare it for sharing on social media outlets. GoPro is really touting this particular option, as it reportedly makes the camera more accessible to the masses. It is also useful for making quick edits while in the field, but we'll have to see it in action to know just how useful it is in the real world.
The new Hero6 is available now and sells for $499, which is a $100 jump over the Hero5, which remains in the line-up at $399.

Woodman also unveiled the company's new Fusion camera, which is designed to capture 360º video for use with virtual reality headsets. The Fusion uses two wide-angle lenses to shoot video at resolutions up to 5.2k at 30 fps. It also has onboard image stabilization, GPS, and WiFi for sharing and editing on the go. It also has what GoPro calls "OverCapture" that allows users to shoot in 360 degrees, but edit down to a typical flat video too. The Fusion will ship in November for $699.
Finally, the company also updated its Karma drone with a long awaited feature. A software update has now given the Karma the ability to automatically follow a subject, provided they are carrying the drone's controller. This isn't quite as sophisticated as the follow technology found in competing models like the DJI Mavic, but it is a step int he right direction.
While GoPro has faced its challenges over the past few years, turning in some dismal quarters financially, it has also been finding ways to right the ship, streamline its product catalog, and get consumers excited again. Hopefully these new and updated products will help it get back on track.
Find out more at GoPro.com.
Latest posts by Kraig Becker
(see all)