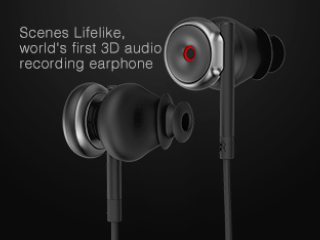 Adventure filmmakers and podcasters looking to capture great sound on the go will want to listen up. A new device called the Lifelike 3D headset offers impressive audio capture performance in a tiny package, producing pro-level 3D sound from an iPhone without the need to use any extra hardware or apps.
The audio-recording headset launched on Indiegogo recently with the hopes of raising $20,000 in crowdfunding money to get the device into production. With more than two weeks to go in the campaign, the team behind the Lifelike 3D has hit that goal, which means that the headset is now scheduled to go into production and begin shipping to customers by December of this year. At that time, it will be priced at $149, although early-bird backers can still order a pair for just $79 as of this writing.
I managed to get my hands on a preproduction model of the Lifelike 3D and put it to the test. I've been planning on launching an adventure podcast for some time now, and I've been searching for a way to capture great audio while on the go. There are of course plenty of mobile microphones to be had, but this headset is compact, lightweight, and promised to provide not just excellent audio reproduction, but also offer 3D sound recording as well.
What is 3D sound you ask? It is a special quality that gives the microphone the ability to capture audio in a relational way, simulating the actual position of the source of the sound that is being captured. For instance, if you're recording sounds coming from all directions, those listening to the playback will actually get the sense that they too are standing in the middle of the scene. To them, it will sound like things are taking place all around them, with appropriate sounds behind, to the left, right, or even in front of them. It is actually a very immersive way to put someone right in the heart of the project. To get a sense of how this works, throw on a pair of headphones and play the YouTube clip below.

At first glance, the Lifelike 3D look a lot like any other earbuds you might find on the market. They are designed for use with the iPhone, as they have a lighting audio cable connection, but other than that they look like wired earphones for the most part. In fact, they actually offer high quality sound, and if you only used them in that capacity, you would likely find them to be a good set of headphones to take with you when you travel, although there are obviously less expensive models on the market if thats all you need.
However, for anyone who needs to actually record audio while on the go, the Lifelike 3D has some nice hidden features. Each of the earbuds has a hidden omnidirectional microphone built-right in, which are capable of absorbing sound from the environment around you and recording it to the iPhone using any type of sound recorder, whether that is Garage Band, the iOS Memos, app, or something else. When played back, that audio replicates the 3D nature of what was picked up quite nicely.
A PC audio switch box is also available, allowing you to plug the headset into your computer to capture and edit audio as well. That optional add-on is expected to be available in December too, and will sell for $49, although it is also available at a $10 discount for those who preorder now.
Having put the Lifelike 3D to the test, I've found it to be an excellent way to capture ambient audio on the go. I haven't had a chance to test it while conducting an interview as of yet, but it seems like it would work great in that capacity too. Simply plug it into your iPhone, don the headphones, and start talking. The device should do everything after that, naturally capturing the conversation for use in podcasts, videos, or whatever project you happen to be working on.
I love that these are small and easy to carry. They can slip right into a backpack, daypack, or camera bag without adding much in the way of weight. But when you need them, they're ready to go. Build-quality is excellent and it feels like they are tough enough to survive while traveling, although they aren't overly rugged so you'll still want to show some caution. But, for the price it is tough to beat the level of versatility and quality of audio capture that you'll find here.
For more information, visit the Lifelike 3D headset Indiegogo page.
Latest posts by Kraig Becker
(see all)