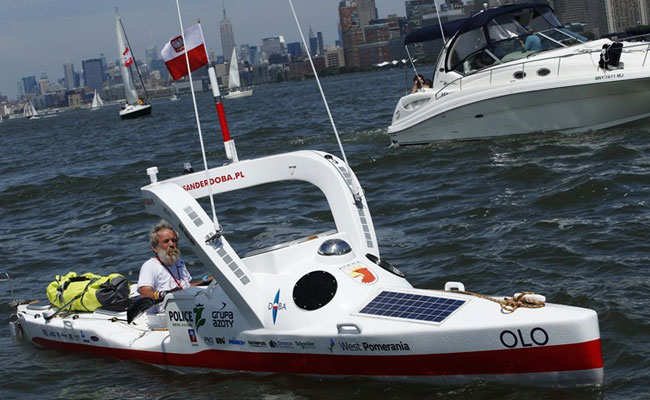 Last week I posted an update on the progress of Aleksander Doba as he made his way across the Atlantic Ocean for the third time in a kayak. At the time, the Polish adventurer was close to making landfall, and I predicted he would do so sometime over the weekend, most likely completing his journey in Brest in France. Doba did indeed finish his crossing, although it wasn't as quick and easy as it seemed at first. 
On Sunday, Aleksander finally reached the shores of France, arriving in the town of Le Conquet. Over the final couple of days of the journey he was forced to deal with strong currents in the English Channel, while also dodging heavy commercial traffic in his small boat. That made what looked like on paper a short distance to traverse take longer than expected, but in the end he was able to come ashore on European soil where a crowd of supporters had gathered to welcome him. 
It took Doba 111 days to complete the crossing, which is his third by kayak. The other two expeditions traveled east to west, but this time out he wanted to go the opposite direction. That proved to be much more challenging than expected, with big storms and incredibly strong currents making it tough going early on. At one point, he even suffered damage to the rudder of his kayak, causing a commercial vessel in the area to divert from its path to assist in making repairs. 
Despite all of those challenges however, Doba not only persisted but completed the journey pretty much on time. His initial estimates were that he would arrive in Portugal sometime in early September. He had the timing right, he just didn't quite get to his original destination. 
The 70-year old Doba completed this third Atlantic crossing just a few days before his 71st birthday. He'll likely celebrate in style, happy to be back on dry land and with friends and family once again. I want to congratulate Aleksander for another impressive display of endurance and determination. We should all be so energetic and adventurous when we reach 70 too. 
Latest posts by Kraig Becker
(see all)