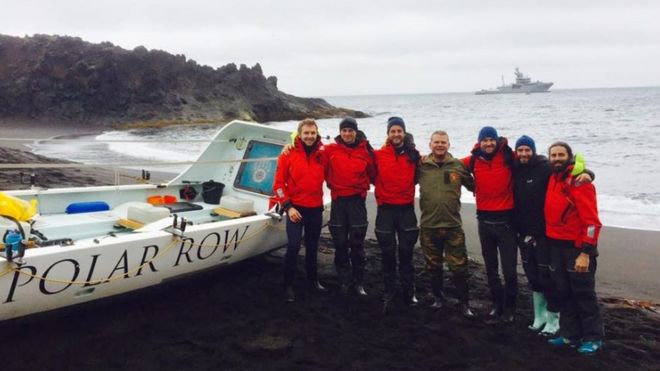 A few weeks back I posted a story about a crew of rowers who had become the first team to row across the Arctic Ocean. Dubbed the Polar Row team, their intention had been to travel to the Svalbard archipelago, before turning south and crossing over to Iceland. When we had checked in with them, they were already on their way to that destination, but since then they've run into a bit of trouble.
According to BBC News, the team had to be rescued from a remote Norwegian island on Monday after becoming stranded on Jan Mayen island back on August 19, not long after I first wrote about their endeavor. The team made landfall there due to a malfunctioning boat, as well as illness and injury, not the least of which were the shredded hands of British Olympic rower Alex Gregory, which made the rounds on social media. The rowers have been there for the past couple of weeks, but were picked up by Norway's coast guard a few days back, and are now on the mainland.
While the crew failed to reach Iceland as they had planned, they did manage to set 11 world records before they were forced to pull the plug on the expedition. Perhaps the most impressive of those records was the completion of the row across the Arctic, reaching as far north as 78ºN, beyond the start of the polar shelf, covering some 2000 km (1242 miles) of open ocean in the process.
The team started to run into problems about a week after they left Svalbard. The row boat's electrical systems stopped working, forcing them to steer the vessel manually and navigate without GPS. It was then that they decided to head to Jan Mayen instead, leaving them about 600 km (370 miles) short of their goal.
The cold and wet weather of the North Atlantic and Arctic also took its toll. The rowers went about their duties while constantly shivering and wet throughout the entire expedition. Eventually this wore on the squad too, making the final days incredibly tough.
Still, despite not reaching their final destination in Iceland, the team is proud of what they have accomplished and are declaring the expedition a success. Now, they're all heading back home to friends and family with stories of their adventure to share.
Latest posts by Kraig Becker
(see all)