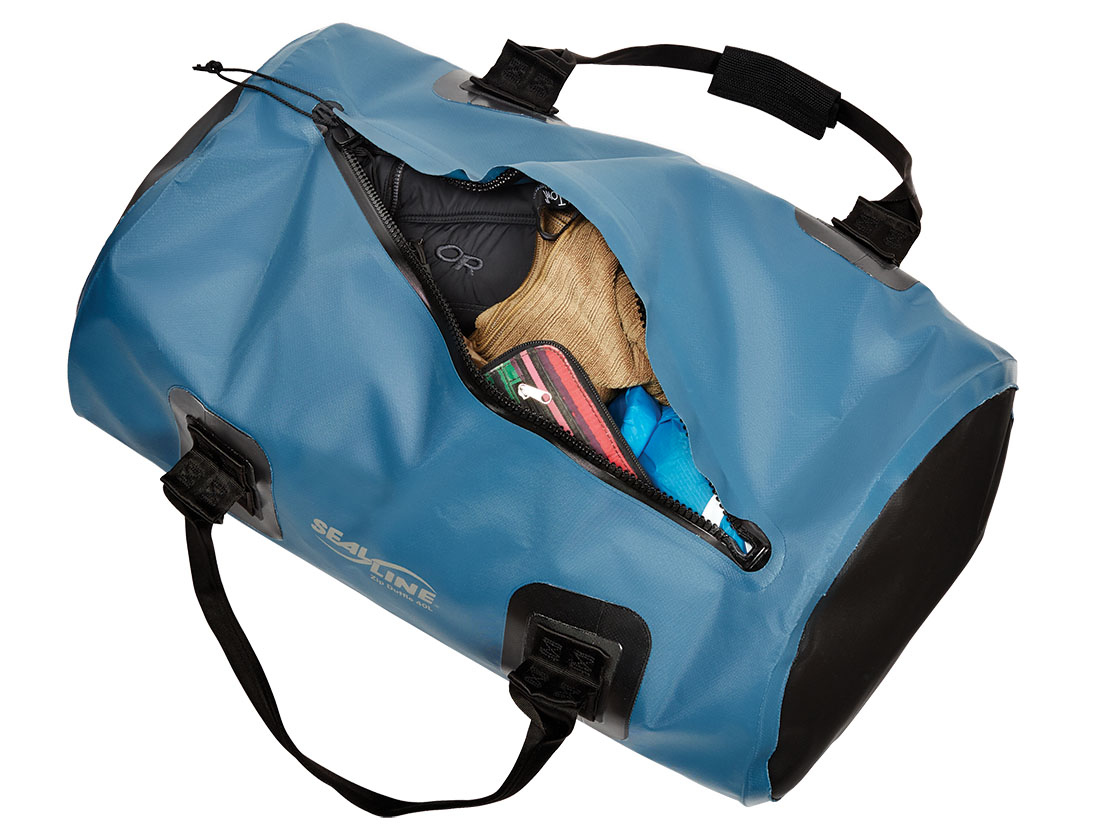 Every adventurous traveler and outdoor enthusiast needs a good waterproof duffel in their arsenal of gear. Whether you're going on a paddling trip, sailing the southern ocean, exploring a rainy environment, or simply just need to protect important gear from the elements, these types of bags are a godsend, and Seal Line has been making some of the best in the business for years. Recently, I got my hands on the company's Zip Duffel and have had a chance to use it on a few adventures. After putting it through its paces in a variety of settings, I can honestly say it is a great addition to the gear closet.
Made from tough, reinforced vinyl, the Zip Duffel is incredibly durable and strong. The fabrics feel supple to the touch, but can take a beating without showing any signs of wear and tear. Even after a number of days in the field, mine still looks factory-fresh, without any scrapes, cuts, or abrasions. In fact, other than a bit of dirt on the outside, you wouldn't be able to tell the difference from the day that I brought it home. And since those same fabrics are water resistant, you can polish them up in no time at all.
Seal Line uses its patented RF-welded construction to close off all of the seams and make the bag air tight. This of course helps to keep moisture out of the interior, but works equally well at repelling dust and dirt too. When paired with the single waterproof YKK zipper, the entire duffel is entirely submersible, providing good piece of mind for taking your gear into the wild.
My version of the Zip Duffel is the 40-liter model, although it also comes in a 75-liter edition. Both offer a cavernous interior compartment for storing and hauling your gear. The lone zipper runs diagonally across the top, providing excellent access to everything inside. Personally, I prefer the smaller edition of the bag as it fits cleanly in most storage compartments on a kayak, while still offering a surprising amount of storage space.

The bag comes equipped with a set of webbed shoulder straps that can be secured with a Velcro handle. The straps make it easy to lug the bag around, and even throw it over a shoulder when you need to move a bit faster. At times, I wouldn't have minded having the option for a longer shoulder strap however, as the included handles are comfortable, but not particularly long.
In terms of protection from water, it is tough to beat the Zip Duffel. Throughout my testing it has never allowed a single drop of moisture to find its way into the interior of the bag, which is of course exactly what you want from a duffel of this kind. If you find yourself working, playing, or exploring in wet environments, this bag will definitely come in handy. It would take an epic structural failure to the outer shell itself for any water to ever penetrate the Zip's defenses.
Not as rugged and durable as Yeti's new Panga, which I reviewed awhile back, the Zip Duffel is never the less tough enough to survive just about anything you throw at it. That said, Seal Line's offering is much lighter weight, making it easier to transport. It also costs far less too, with an MSRP of just $160 for the 40L version and $180 for the 75L model. Yeti's over-engineered bags are indeed fantastic, but they start at $300.
Anyone looking for a tough, versatile, and affordable waterproof duffel to take with them on their adventures should seriously consider adding the Zip Duffel to their own gear closets. It is an impressive piece of gear that offers excellent performance at a fraction of the cost of the competition.
Latest posts by Kraig Becker
(see all)