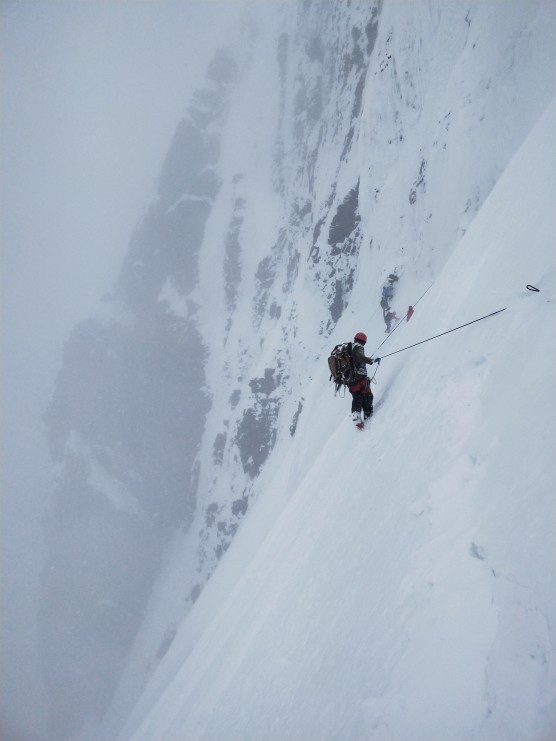 With the autumn climbing season starting to wind down in the Himalaya, one of the few remaining expeditions is on Lhotse, where South Korean climber Sung Taek Hong and Spanidard Jorge Egocheaga Rodriguez are attempting the incredibly difficult South Face of Lhotse. Last week, we had an update on their progress courtesy of a report from The Himalayan Times, but now Hong himself has provided more information on what has been happening, while giving us a sneak peek at what is to come as well.
In a dispatch posted to the expedition's website, Hong tells us that everyone is currently back in Base Camp, resting up after a tough push up the mountain. That acclimatization rotation allowed the team to fully stock Camp 3 with supplies and equipment, but also gave them the opportunity to establish Camp 4 as well. But unfortunately, as we learned from The Himalayan Times, two of the Sherpas supporting the Hong and Rodriguez were injured on the descent and had to be airlifted back to Kathmandu. In the dispatch we learn that the two men are doing fine now and that their injuries aren't especially serious however.
The injuries to the Sherpas were the result of a rockslide on the mountain, which have been occurring with increasing frequency at the lower altitudes, while avalanches has become more frequent higher up. This has forced the team to climb at night, when the colder temperatures helps to freeze everything in place and providing more stable conditions.
Hong says that the push up to C3 and 4 was delayed for about five days due to inclement weather. High winds and heavy snow hit Lhotse over the past week, keeping everyone stuck in BC for a time. Once those conditions passed, the climbers were able to resume their efforts, and now have their high camp set at 8250 meters (27,066 ft). That should put them in a position to summit soon, although a schedule hasn't been completely established yet.
According to the dispatch, the team hopes to top out around the end of the month, which is a little over a week away at this point. Of course, they'll need a good weather window, and at the moment the forecast is looking promising. If good conditions do arrive as expected, Hong and Rodriguez are likely to leave Base Camp near the end of the week, most likely Thursday or Friday. This will allow them to get into position to summit before October is done.
We'll continue to follow their progress closely and share updates as they become available.
Latest posts by Kraig Becker
(see all)