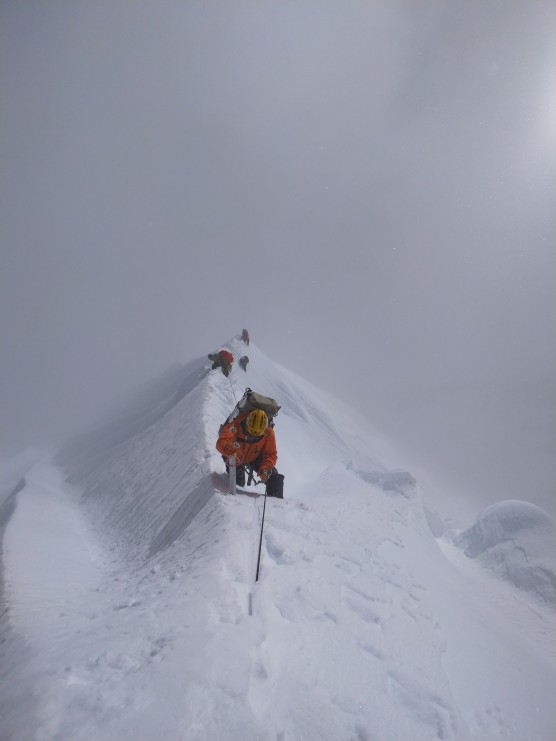 It has been a few days since I posted any updates from the Himalaya. There are still several teams in the big mountains, although there numbers have definitely dwindled at this point of the season. Still, we're keeping a close eye on several expeditions and anxiously awaiting word on their status. Here's where things stand at the moment.
Over on Lhotse, South Korean climber Sung-Taek Hong and his Spanish partner Jorge Egocheaga were hoping to launch their summit bid last week. The plan was to go up the very tough South Face in the final days of October, with the hopes of topping out in early November. We're now a week past that point and there has been no word on where they are at on the mountain. The team did indicate that they had a satellite phone, but they would only use it when there was an update to share. Without speculating too much, it is difficult to predict where they might be, but hopefully Hong and Egocheaga are simply waiting for the right weather window and we'll get an update on their progress soon.
It is a similar situation on Annapurna, where Slovenian climbers Luka Stražar and Nejc Marčič had launched an alpine style ascent along the West Face route. The duo have not posted any updates in awhile either, and it is unknown where they are at the moment. In their last update they indicated that they had reached 6000 meters (19,685 ft), but that was several weeks back. Where they are now, remains a mystery.
On Manaslu, Hans Kammerlander is posting updates from Base Camp, but the situation isn't great. The weather conditions have been extremely challenging of late, keeping the team from even climbing up to establish Camp 1. High winds and heavy snow caused whiteout conditions, forcing them back down the mountain. Worse yet, Hans said that higher up the slopes, everything is covered in snow and that the searac zones look impassable and dangerous. As of this writing, the team has not pulled the plug on the expedition, but it isn't looking altogether promising.

Elsewhere, teams are completing first ascents on some of Nepal's lesser known peaks. Adventure sports bloggers Stefan Nestler has all the details on a the first ascent of Phungi, a 6538-meter (21,450 ft) peak located west of Manaslu. The Russian duo of Yury Koshelenko and Aleksei Lonchinskii finished the climb back on October 28, spending three days going up the Southeast Face and two more descending a different route.
Similarly, Italian Simon Gietl and Austrian Vittorio Messini have completed a new route in the Indian Himalaya, going up the 6543 meter (21,466 ft) Shivling back in early October. The route was a mix of snow and ice, and diverted slight from the usual path taken to the summit of this imposing peak. The topped out on October 11, naming the new 1500 meter (4921 ft) route Shiva's Ice.
Finally, Alan Arnette has posted some updates on commercial climbs to Nepal's trekking peaks. These mountains aren't amongst the highest in the Himalaya, but they can still be quite tall and difficult. They also often serve as a warm-up climb for those who want to attempt an 8000-meter peak at a later date.
The Adventure Consultants put a team on the summit of Ama Dablam a few days back on what sounds like a very busy summit day. The mountain has become increasingly popular in recent years, leading to fears of overcrowding there as well. Meanwhile, the Altitude Junkies are currently leading a team up Cholatse, a difficult mountain that can test a climber's strength and endurance.
That's all for now. I'll post more updates when there is news to share.
Latest posts by Kraig Becker
(see all)