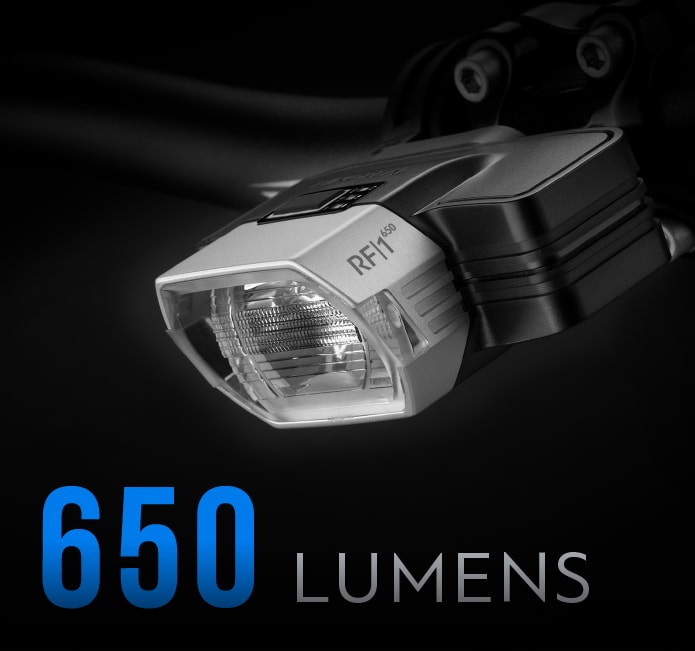 Road cyclists and mountain bikers listen up – your search for the perfect cycling light might be over. The Radius F1 comes our way courtesy of Binoreal and it delivers some really great features to help us stay safe on our rides.
What makes the Radius F1 so special? For starters, it has built-in sensors that can detect when you're in motion and when you're stopped, and will adjust the light accordingly. It can even tell how fast you're going, increasing the brightness to match. The faster you ride, the brighter it gets – up to 450 or 650 lumens depending on the model. Slow down, and it the light dims to conserve battery life, but still manages to put out an impressive 200 lumens of illumination.
If all of that wasn't enticing enough, the light will also sense when you're slowing down and will switch to a pulse mode when taking corners or flash mode when you come to a complete stop. And if you are stopped for more than three minutes it will first drop into a stand-by mode until it senses that you are moving again, at which time it will automatically turn itself back on. After an hour of inactivity it switches itself off completely.
The Radius F1 is well built, durable, and water resistant. It also attaches to nearly any handlebar in a matter of seconds and comes with a magnetic charger that makes it a breeze to power up again. Battery life is about 2 hours on its brightest setting, although in real world testing it latest considerably longer than that thanks to its auto-sensing, brightness adjust capabilities.
At the moment, the Radius F1 is still in its crowdfunding phase. Binoreal launched its Kickstarter campaign last week with the aim of raising $15,000 to get the light into production. It has already easily surpassed that goal, which means it should start shipping in April, 2018. The 450-lumen version will sell for $80 while the 650-lumen model will retail for $100. Both can be preordered for half-price as part of the crowdfunding campaign.
I've had a chance to test a pre-produciton version of the Radius F1 and can attest to how well it works. The light is bright, has good battery life, and smoothly adjusts to your speed as advertised. In fact, I'm very impressed with how well it performs. This is a great product for bike commuters in particular, helping to make them safer and more visible out on the road.
Considering the Radius F1 can be had for a little as $40 during the crowdfunding campaign, this is a no brainer to recommend to anyone looking for a great light. Find out more here.
Latest posts by Kraig Becker
(see all)