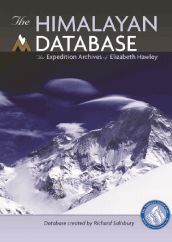 The  "Bible of Expedition Mountaineering in Nepal," aka The Himalayan Database is now available for anyone to download. Previously, the information contained in the database was only available via a CD-ROM, but the record keepers behind this extensive resource have released the data online at himalayandatabase.com where it is a free download.
Way back in October we shared the news that the database would be released to the general public for free. At that time, it was expected to become available in early November, but when that month came and went without an update, it seemed that the project may have hit a snag in its efforts to get the information into the hands of those who wanted to sift through its data. Now, just a few days into December, version 2 of the database is available to all.
According to the Himalayan Database website, the information includes records on more than 450 different peaks, over 9600 expeditions, and 70,000 individual climbers. It covers all expeditions from 1905 through 2017 on all significant Nepalese peaks, as well as data on the mountains that border Tibet, including Everest, Cho Oyu, Makalu, and Kangchenjunga.
Each expedition record contains biographical information for all members listed on the permit as well as for hired members (e.g., Sherpas) for which there are significant events such as a summit success, deaths, accidents, or rescue. The database also lists more than 10,000 references in media and literature to major climbs as well.
The Himalayan Database has been the labor of love for Miss Elizabeth Hawley, and American journalist who came to Nepal back in 1960 never left. Over the years, she compiled information on all of the significant climbs in the Himalaya, first by hand, and later using computers. That information grew into The Himalayan Database, and she became the foremost authority on climbing in Nepal. Now, at the age of 94, she has ceded the work over to others, but still plays a vital role in the project.
You can learn more about The Himalayan Database, and download it yourself, here.
Latest posts by Kraig Becker
(see all)