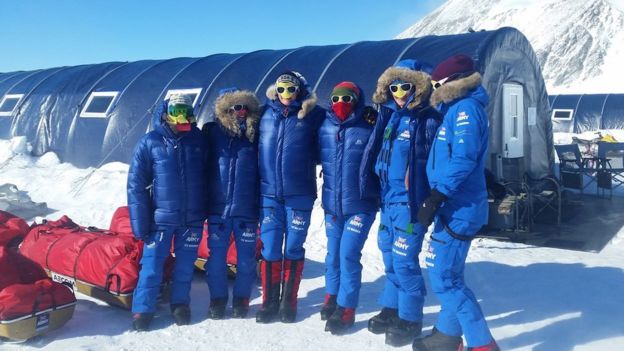 While we've been focused heavily on the winter climbing season over the past few weeks, the Antarctic expedition season is still underway as well. One of the teams that we've been following for over two months now has finally completed its journey across the frozen continent, bringing an end to a record setting adventure that has been a challenge from the start.
The all-female squad known as the Ice Maidens wrapped up their traverse of Antarctica this past weekend when they arrived at Hercules Inlet 62 days after they started the crossing. In doing so, they became the first all-women team to make such a journey, which began way back in November. That's when the team set out from the Ross Ice Shelf then proceeded onto the Leverett Glacier, before crossing the Transantarctic Mountains, before reaching the Polar Plateau. Their route also took them to the South Pole on the way back to Hercules Inlet.
The Ice Maidens consisted of Major Nice Wetherill, Major Nat Taylor, Lace Sergeant Sophie Montagne, Captain Zanna Baker, Major Sandy Tennis, and Lt. Jenni Stephenson. All of the members of the team are part of the active British military or reservists, and were selected from over 250 applicants who wished to be a part of the expedition.
The expedition didn't get off to a promising start when the ladies first had to spend two weeks stuck at the Union Glacier camp waiting for the weather to improve. At the time, it looked like things could be in jeopardy as it was expected to take upwards of 90 days for them to finish the crossing. But once they got out on the ice, things picked up quickly and they managed to cover longer distances as they went. In the end, they were able to wrap up the crossing in a fraction of the time, and will still get home on schedule.
The Antarctic season is nearly coming to an end. The last flight off the continent is scheduled for next week, although that plane is meant for ALE personnel and supplies. The final flight for clients should take place at the end of this week, weather permitting. That will close another chapter on a busy season at the bottom of the world.
Latest posts by Kraig Becker
(see all)