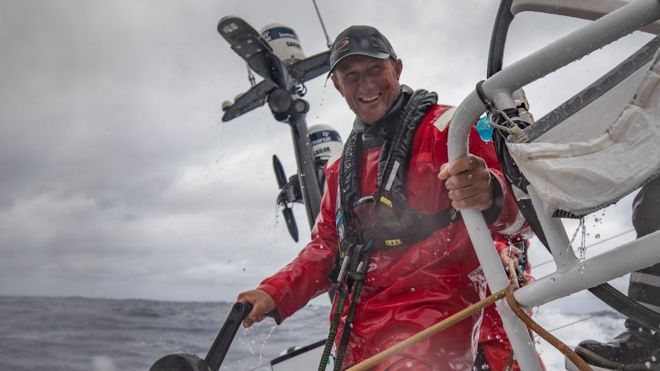 Sad news from the Volvo Ocean Race this morning where it is reported that a sailor has gone overboard and is now presumed lost at sea. The news comes after race officials have worked closely with the Sun Hung Kai/Scallway crew and the Maritime Rescue Coordination Center (MRCC) to conduct a search and rescue operation, but unfortunately their efforts have failed to locate the missing man.
According to reports, Sun Hung Kai/Scallway crew member John Fisher went missing yesterday afternoon after he was tossed overboard while sailing in the turbulent Southern Ocean. He was wearing survival gear at the time and the ship immediately contact race headquarters and began conducting a search for their teammate. Those operations went on for several hours while the MRCC contacted other vessels in the area to see if they could lend a hand. This being one of the more remote corners of the world, the closest ship was 400 nautical miles away. Meanwhile, the other ships taking part in the race were already 200 nautical miles downwind and facing gales of up to 40 knots, making it nearly impossible for them to turn around and head back to lend a hand.
In a statement updating the status of the search and Fisher himself, race officials had this to say:
"Given the cold water temperature and the extreme sea state, along with the time that has now passed since he went overboard, we must now presume that John has been lost at sea."
Team Sun Hung Kai/Scallywag have resumed course for Brazil, which is the next stop in the race. According to reports, the weather conditions are deteriorating rapidly and the ship needs to try to avoid oncoming storms as best as it can. Severe weather is expected to descend on the area throughout the rest of the day, which would make any further SAR operations nearly impossible.
We've been following this year's Volvo Ocean Race very closely here at The Adventure Blog and have been excited to watch the two stages that dipped into the Southern Ocean. In both instances, we've stressed how challenging those areas of the world can be and have shared video of the extreme weather that forms there. This story only underscores the challenges that the teams face in those conditions, which remain extremely difficult even with modern gear and equipment. Hopefully the rest of the fleet will finish this leg safely, as I'm sure they are all deeply saddened by this turn of events today.
My condolences go out to John Fisher's family, friends, and shipmates, as well as the entire Volvo Ocean Race family. It is a sad day indeed.
Latest posts by Kraig Becker
(see all)