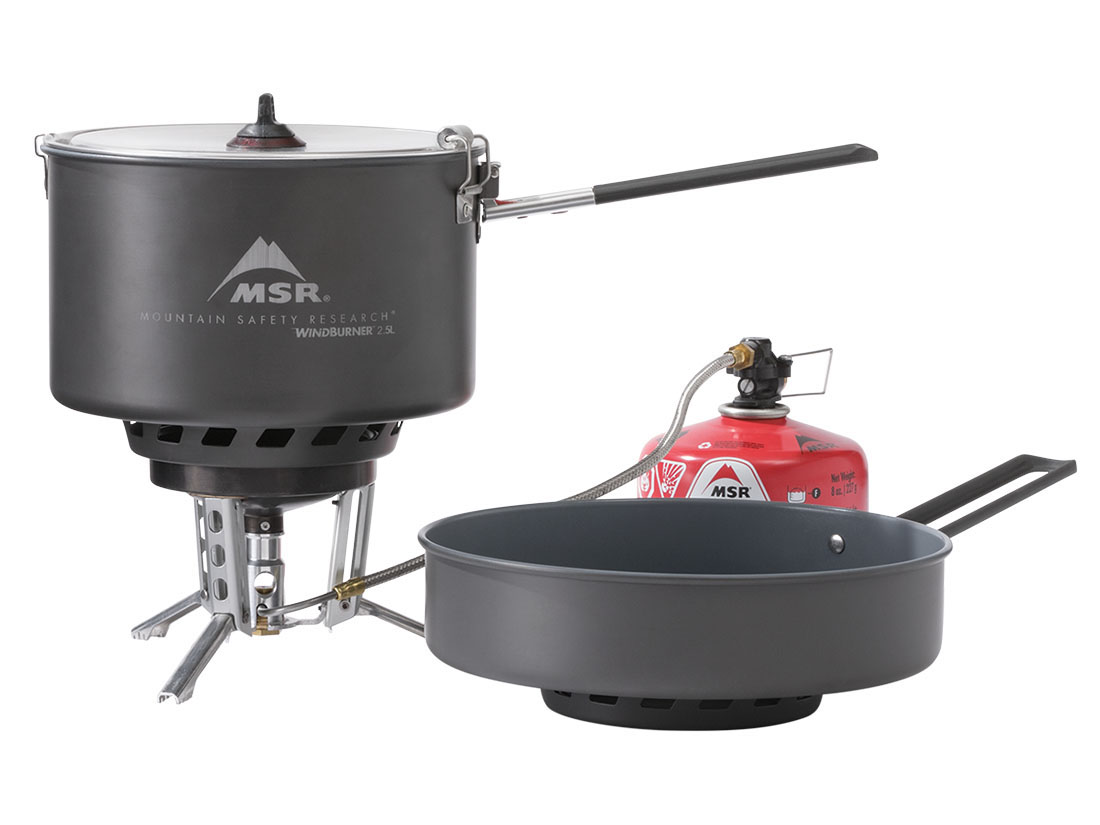 A few months back I reviewed the new MSR PocketRocket 2 camp stove, lauding it for its lightweight and efficiency. I was impressed with how such a tiny stove could pack in so many features, making it the perfect option for ounce-counting hikers and backpackers. But sometimes when you head into the backcountry you need a more robust option for creating meals, both for yourself and larger groups. That's when it is a good idea to bring MSR's new Windburner Stove System Combo along instead, providing more versatility and functionality in a surprisingly small package.
Now, before we get too far into my thoughts on the Windburner Combo, lets get one thing straight. When you consider everything that is included in the package, this is a lightweight cooking option, but it isn't in the same category as the PocketRocket, which weighs just a few ounces. The Windburner Combo actually tips the scales at 1 lbs., 13 ounces, making it a far more substantial item to carry along with you. That said however, if you're not someone who is looking to go ultralight on the trail, this new cooking system will really allow you do a lot more in terms of preparing meals at the campsite.
The Windburner Stove System Combo comes with just about everything you need for backcountry meal preparation. It includes the Windburner stove itself, a 2.5-liter ceramic-coated sauce pot, and an 8″ skillet. Everything is designed to work modularly with one another, and the stove, pot, and pan nest nicely for ease of carry.
The core of this combo package is of course the Windburner stove itself. This little dynamo is already well-known to be very efficient, even in high winds and cold conditions. The stove's radiant burner heats up extremely quickly and the built-in pressure regulator ensures that a hot flame is maintained at all times, no matter the weather conditions. That same burner is built to balance nicely on a wide variety of surfaces and can easily accommodate both of the included pans. Stability is enhanced further with the use of an external gas line, which connects to a fuel canister.

MSR claims that the Windburner can boil a liter of water in about 6.2 minutes, which isn't the fastest time we've seen, but is still top-notch performance from a stove of this kind. My tests with the burner have found this to be a fairly accurate estimate, although I have yet to test it in heavier winds or colder temperatures. Still, I was impressed with how easy it was to set up the system and how quickly it was able to get water boiling. Even my home stove takes several minutes to make that happen.
The included sauce pot and skillet are both lightweight, easy to keep clean, and extremely useful. Rather than just boiling water to make a dehydrated meal, you can actually bring real ingredients and cook something tastier and more substantial. This is especially helpful for larger groups, when bringing more food is a better option than loading up on prepackaged options.
Other nice features include folding handles on the two pans that make them easy to store and a locking strainer lid that makes it easy to pour out excess water. The stove's controls make it easy to adjust the temperature from a simmer up to a rolling boil, while the entire package has been designed to nest an 8-ounce fuel canister too.
Priced at $259.95, the Windburner Stove System Combo is a great choice for those who need more robust options for cooking meals at their campsite. Not only does it provide pretty much everything you need in a single package, you're also getting a top-notch, and highly efficient stove in the process. If you've been on the look out for a new cook system that allows you to be more versatile, and feed more people, than this product needs to be on your short list. Fast, efficient, and easy to use, it will help you take your backcountry cooking game up a notch.
Find out more at MSRgear.com. And purchase this cooking system online at REI.
Latest posts by Kraig Becker
(see all)