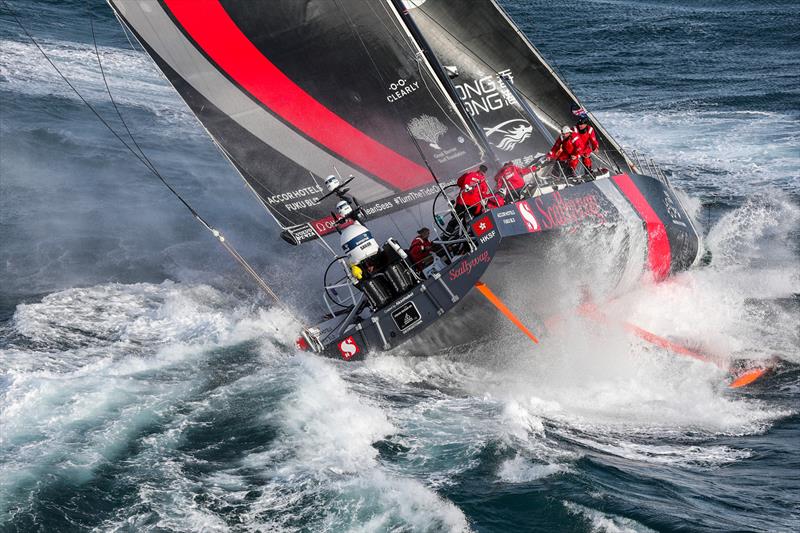 The ships taking part in the Volvo Ocean Race have completed another leg of their round-the-world journey, this time arriving in North America for their stopover in Newport, Rhode Island. The teams have been arriving there throughout the week and are now preparing for in-port races and a host of festivities as they prepare for the final push to the finish line in The Hague.
The winner of stage 8, which ran from Itajaí, Brazil to Newport in the U.S., was Spanish team MAPFRE. This came as an unexpected surprise as just 24 hours earlier they were running in fifth place with only 300 miles (482 km) to go. But the crew of the MAPFRE ship managed to transition nicely from one climate zone to the next, allowing them to make up precious time on their rivals. It was particularly difficult for Team Brunel, which struggled coming into the home stretch. So much so that MAPFRE was able to catch them with just 50 meters to go to the finish line to take a dramatic stage win. The other ships of the fleet trickled in behind them throughout the day on Tuesday and Wednesday.
Now, the teams will stay in Newport for the next week and a half before getting under way again on May 20 for the ninth leg of the race. That section will run from the U.S. to Cardiff in Wales, covering 3300 nautical miles (3797 miles/6111 km) as they sprint across the Atlantic Ocean. That will set them up for the run from Cardiff to Gothenburg, Sweden on June 10 before the final stage from Gothenburg to The Hague. The race is expected to wrap up sometime around June 24 with final in-port races and activities lasting until the start of July.
It has been a wild race to follow this season, particularly with the ships heading into the Southern Ocean on two separate occasions. It is far from over just yet, but the craziest sections are now behind us and it should be relatively good sailing through to the end. Storms and strong seas can still make things challenging, but it is unlikely that they'll face anything as difficult as the teams have seen during other stages of the race. That means they can concentrate on strategy and sailing as they start to turn towards the finish line.
Follow all of the action on the Volvo Ocean Race website.
Latest posts by Kraig Becker
(see all)