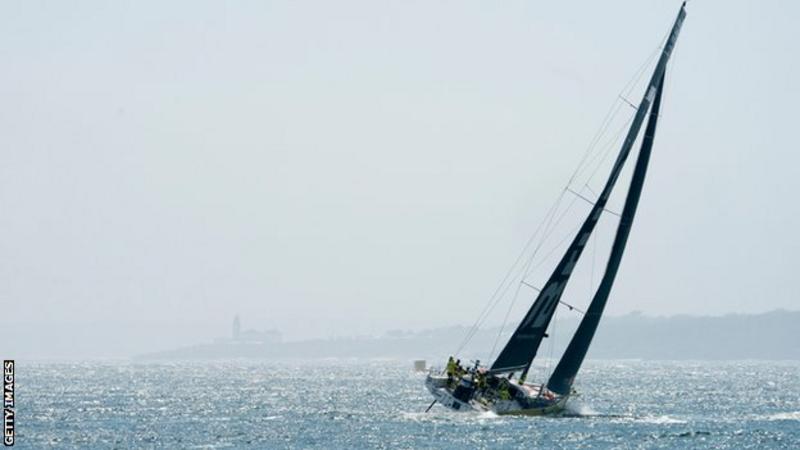 Stage 9 of the Volvo Ocean Race is in the books and the fleet of round-the-world racing ships has arrived in Cardiff, Wales after a spirited crossing of the Atlantic Ocean. Following this fast and furious stage, the top three teams are all within striking distance of one another with just two short stages to go, as the entire event looks to wrap up by the end of June.
Team Brunel took the stage 9 win, which ran for 3300 nautical miles (3797 miles/6111 km) from Newport, Rhode Island in the U.S. to Cardiff. The Atlantic crossing was a hostly contested one with four of the seven teams in hot pursuit of one another over the final few days. In the end Brunel was able to edge out AkzoNobel for the win, with just over four minutes separating the two ships. Team Dongfeng claimed third place, which was enough to give them the overall lead in the race as well.
AkzoNobel did pick up one consolation prize for their efforts on the Atlantic. The team managed to set a new 24-hour speed record covering a stunning 602.51 nautical miles (693 miles/1115 km) in just a single day. That's cooking along at a speed of 28.8 mph (46.3 km/h), which is pretty darn fast for any sailing vessel.
Now, the fleet will spend the next week and half in port in Cardiff before moving on to the next leg of the race. Stage 10 covers 1300 nautical miles (1496 miles/2407 km) between Cardiff and Gothenburg, Sweden, with arrival set for that port on June 15. The teams will only be there for about a week, departing on June 21 for the 11th and final stage, which will cover just 700 nautical miles (805 miles/1296 km) racing towards the finish line in The Hague. They should arrive there somewhere around June 24, and following some in-port races and other activities, the curtain should drop on the 2018 Volvo Ocean Race on June 30.
Right now, the teams are preparing for in-port racing in Cardiff and will be there until June 10. You can follow all of that action and learn more about this amazing around-the-world event as a whole on the Volvo Ocean Race website.
Latest posts by Kraig Becker
(see all)