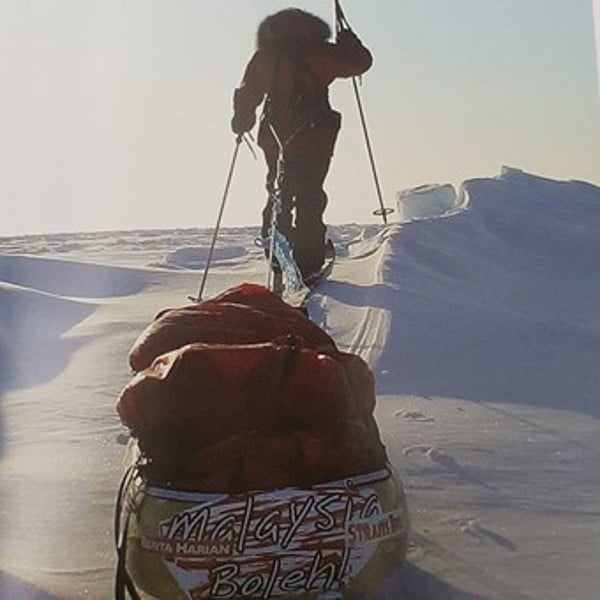 A trailblazing female explorer from Malaysia is preparing to head back to Antarctica this year. Sharifah Mazlina will lead a team of five the other women on 550 km (341 mile) journey to retrieve a time capsule that Mazlina herself put in place back in 20014 when she became the first muslim to travel to the South Pole.
At the start of the 21st century, Mazlina was a graduate student studying psychology who came up with an idea on how to mentally prepare yourself to take on life's most difficult challenges. Her professor heard her theory but told her she would have to find some way to prove that her ideas could actually work in the real world. To do that, she decided to test herself both mentally and physically by skiing alone across Antarctica. Three years later, she made the journey to the North Pole as well, becoming the first Malaysian to visit both extreme points on the planet.
While on her original journey to the South Pole she dropped a time capsule containing items that were personally and culturally significant to her at the time. Now, the goal is to go back and retrieve that time capsule, while simultaneously putting another one in its place. The new time capsule isn't expected to be opened until 2050.
2018 is the Year of Women's Empowerment in Malaysia, and to that end Mazlina is searching for five young women to accompany her on the return trip to Antarctica. She has received thousands of applicants from other would-be explorers who want to join her on this journey and has started the arduous process of paring those applications down. She is looking for women who are tough, dedicated, in good physical conditions, and can build a following on social media. She also wants them to be smart, educated, and well read, as the intention if for them to become role models for other women in Malaysia.
If all goes according to plan, Mazlina and her new team will travel to the Antarctic in November of this year and start their journey across the frozen continent. Between now and then, the women will undergo physical training to prepare for the challenges of the expedition and will gain the sills needed to survive out on the ice.
The 2018/2019 Antarctic season is still a long way off, but already there are some interesting stories to be told. We'll add this one to the expeditions we'll be following later this year.
Latest posts by Kraig Becker
(see all)