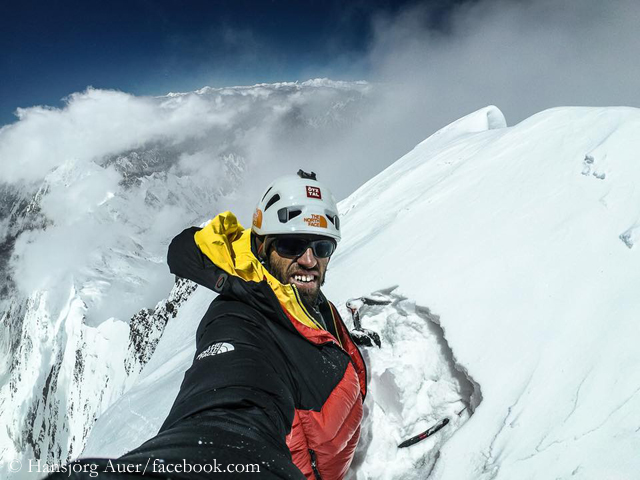 The difficult and challenging season in the Karakoram appears to have given a few climbers a reprieve. While poor weather has been the prevalent theme so far this year, things have improved a bit in recent days, allowing the climbing teams to go on the move at long last. This has resulted in summit success on one of the 8000-meter peaks in the area, as well as a first ascent of a very tough 7000-meter mountain as well.
We'll start on Nanga Parbat, where it looked like the mountain had all but been abandoned. We know that Maya Sherpa and her companions are still there, waiting for an opportunity to summit, but Mike Horn, Alex Gavan and Tunc Findik have all cancelled their expeditions and gone home for the season. Now, another climber has managed to reach the summit, despite challenging and dangerous conditions.
According to Alan Arnette, Korean alpinist Kim Migon reached the summit of Nanga yesterday, climbing with the Summit Karakoram team. He was accompanied by two other climbers – Lu Chung-han and Sanu Sherpa. By completing this ascent, Kim has joined a very exclusive club, becoming the latest mountaineer to summit all 8000-meter peaks –– a significant accomplishment indeed.

Meanwhile, Austrian climber Hansjörg Auer has completed the first solo ascent of the West Face of Lupghar Sar West. The 7157-meter (23,480 ft) peak has been on Auer's mind for the past four years as he planned and prepared for this climb. Now, he has managed to reach that goal, completely on his own. The remote and difficult mountain seldom sees visitors, which appears to have been part of the enticement for the Austrian who says he was looking forward to climbing alone.
The improved weather across the region has allowed more of the teams on K2 to acclimate at higher altitudes. Over the past few days, most of the teams there have sent climbers up to Camp 1 and 2 as part of their regular rotations. At the moment, they are a bit behind schedule, but the forecasts look good until later in the week, giving them some time to stretch their legs at higher altitudes. At the same time, the Sherpa teams have been busy installing the fixed ropes up to Camp 3, so we may see some teams spending the night there prior to their summit bids later in the month. Right now, it would seem that things are falling in line for a late July or early August push for the top, provided the weather stays stable.
Speaking of K2, ExWeb is reporting that Polish ski mountaineer Andrzej Bargiel has left Gasherbrum II and is now on his way to the world's second highest peak. Bargiel was warming up on GII prior to going after his real goal –– the first ski descent of K2. He didn't manage to summit Gasherbrum II, but feels he is sufficiently acclimated enough to begin his attempt on K2.
Finally, conditions on Gasherbrum I and II has also improved, allowing the teams on those peaks to continue their work as well. There are a number of squads there attempting one or the other of the Gasherbrums, but several climbers will attempt a traverse of both mountains should the weather permit. Things appear to be proceeding well now that the skies have cleared.
That's all for today. More updates as the news warrants it.
Latest posts by Kraig Becker
(see all)