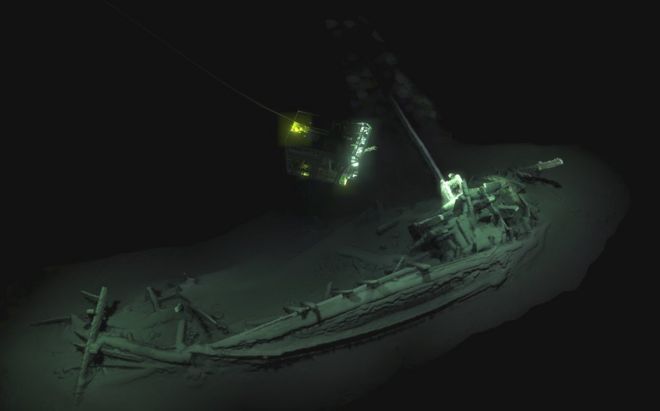 Researchers have made a remarkable discovery in the Black Sea, where a team of underwater archaeologists have located a shipwreck that dates back more than 2400 years. The Greek merchant vessel is believed to be the oldest known intact shipwreck in the world, predating the rise of the Roman Empire and the birth of Christ.
According to reports, the ship is located off the coast of Bulgaria and rests at a depth of about 2000 meters (6561 ft). That great depth has helped in the preservation process, as the lack of oxygen in the water helps to greatly slow down the degradation of organic material. Of course, the Greek vessel is mostly made of wood and is in remarkably good condition considering its age.
Using a remotely-controlled vehicle to examine the wreckage, the archaeologists were able to see plenty of details. For instance, the 23-meter (75 ft) ship still has its mast intact and rowing benches are still visible on its deck. The rudder is still in one piece as well and there are even coils of rope along the stern of the vessel as well.
"A ship, surviving intact, from the Classical world, lying in over two kilometers of water, is something I would never have believed possible," said Jon Adams from the University of Southampton. Adams is the team's main investigator and was one of the researchers who discovered the wreckage. "This will change our understanding of shipbuilding and seafaring in the ancient world," he adds. 
At the moment, it is unknown if the ship has any cargo, and if so, what that cargo could contain. The research team says they need more funding to further investigate the wreckage, but they believe it could contain some interesting things inside of its hold. What they find there could help them piece together the ship's story, including where it came from, who it was trading with, and potentially where it was headed. 
This isn't the only find the research team has made either. The BBC says that over the course of three years, they've discovered 67 individual wrecks, including a Roman training vessel and a 17th century Cossack trading fleet. 
Latest posts by Kraig Becker
(see all)