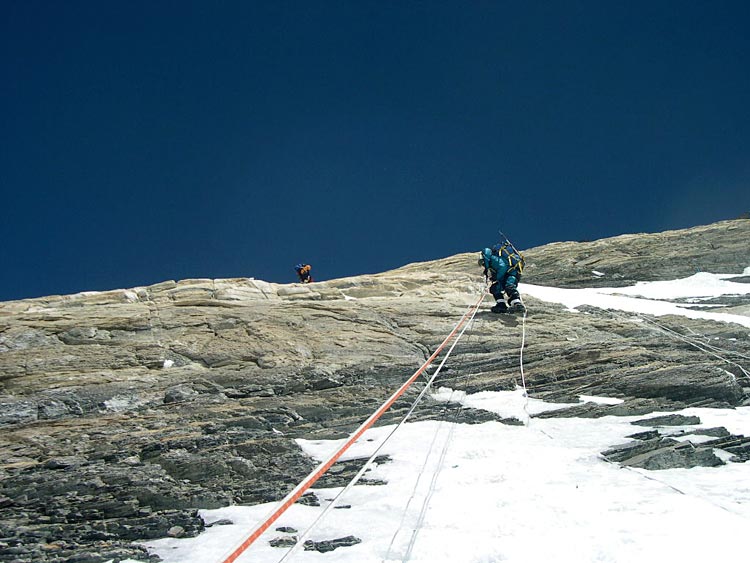 The 2011 climbing season on Everest is shaping up to be one of the coldest, and snowiest, in recent memory. The weather seems to be the primary focus of discussion even as teams continue their acclimatization process, with many dispatches noting that the weather pattern has remained the same all season thus far. Clear skies in the morning bring cold temperatures, with clouds moving in later in the day, usually dumping snow on the mountain.
The IMG squad posted an updated yesterday saying that a weather front off to the East of the mountain had brought yet more snow, dumping as much as 12 inches (30.5 cm) on the Western Cwm between Camps 1 and 2. Despite that weather however, some of the team members, including Alan Arnette, spent the night at C2, with others waiting in Base Camp to begin their acclimatization rotation.
The Peak Freaks had hoped to climb up to C3 today as part of their process as well, but lead guide Tim Rippel reports in his Twitter feed that that climb was aborted due to the snow. The team had not intended to stay the night at the camp, but simply go up and "touch" it before heading back down to BC for some rest. The snow was reportedly quite deep higher on the mountain, and although the lines are fixed, the team decided to not risk going any higher for now.
The Himex team has laid out their plans for the coming days, and they have quite a busy schedule planned as well. After most of the crew completed a successful climb of Pumori, they are now prepared to have a go at the big hill, but they'll need to acclimatize more first. So, to that end, they plan is to climb up to Camp 2 tomorrow, and spend four nights at 6600 meter (21,653 ft). After that, they'll head up to Camp 3, spend a night there before dropping back down to C2 for one more night. After all that time at altitude, they'll return to BC, on or about May 4th, when they'll begin waiting for a weather window for their summit bid. An ambitious plan to say the least.
Elsewhere, the Field Touring Alpine team is on Cho Oyu, where they've also spend the night at Camp 1 and hope to go up to Camp 2 today. Whether or not they actually do that is dependent on the ropes being fixed to that point on the mountain. They report similar conditions on Cho Oyu as on Everest, cold, windy, and plenty of snow. Want to know what it's like on a Himalayan peak in the high winds? Check out the video below.
Finally, Anselm Murphy checks in today from Kangchenjunga where he reports that the Sherpas ran out of rope while fixing lines up to Camp 3. They hope to return to C2 tomorrow and then continue their work straight away on Friday, which is good news for everyone, as they all seem eager to get up to 7000 meters to finish their acclimatization. Much like everywhere else in the region however, the mountain is experiencing bad weather, with plenty of snow and high winds. It seems that all of the Himalaya are caught up in this same pattern at the moment.
Latest posts by Kraig Becker
(see all)