Today we have part three of the excellent series contributed by Richard Bangs of Adventures with a Purpose fame. Richard recently traveled to the beautiful Cayman Islands and he's been sharing his thoughts on that amazing place, which provides visitors with a mix of adventure, luxury and romance. Enjoy!
The Cayman Islands: Fifty Shades of Bay
By Richard Bangs
Part 3 of 4 Parts
Cayman Islands
The hours melt away as I snorkel the brilliant reefs, hike the filigreed interior, draw figures in the sand, collect lovely shells, even paddle around the island in a leaky plastic kayak. I finish reading my one book, Explorers of the Nile, and then stare at a palm tree. I come to admit I'm bored. All these studies about how continued connectedness leads to attention deficit disorder may be true. I'm restless, and anxious. I need a fix. It's time to get back to civilization. So, I pull out my cell, and push the on-button. But nada. It's out of juice. I panic. But then reach deeper into my pack, pull out an Energizer portable charger, plug it into the phone, and make the call. But it goes to a robot voice saying the mailbox is full; call again later. I'm castaway on a desert island.
So, I decide to swim for it. I stash my pack and sandals, towel, hat and sunglasses, and head into shark and jellyfish waters towards the shore of Little Cayman.
I make it, and after arranging for a pick-up of my left-behind gear and electronics, head to the Edward Bodden Airfield, and catch the first flight back to Grand Cayman, and then straight to Camana Bay, the new cosmopolitan development packed with so many high-end restaurants, glam shops and luxury labels some call it Brand Cayman.
I first stop at Books & Books, carrying the kind of collections the best Borders used to offer, and pick up several new titles, in case I'm stranded on a desert island again, or a hurricane hits. I step by the sports stadium, where the Rugby team "No Woman No Try" is practicing. I stop for a delightful meal at Ortanique, a Nuevo Latina Carib-Asian eatery. And I run into Kenneth Hydes, the VP of Product and Experiences, who tells me the billion dollar development is the brain child of Kenneth Dart, heir to the Dart Container Corporation of Michigan, world's largest manufacturer of foam cups. Kenneth gave up US Citizenship in 1994, moved to Cayman, becoming an investor, and a champion of recycling initiatives. His refined taste is represented in Camana Bay, which is more Rodeo Boulevard than Caribbean sugar shack, more Waterford and Cartier than watermelon and giclée, and it gives Cayman, already the most sophisticated stop in the region, an extra lift.
The perfumed tropic air is Sunday's, and at the crack of noon I head out for the contrast to Camana Bay, the Grape Tree Café on the beach in Bodden Town with its locally-famous Sunday Fish Fry. This is where the islanders come, and bask in deep-fried bliss. "It humbles the stomach," says Alex Bodden, related to the first settler on Cayman back in 1700, and who owns, with his family, the adjacent Texaco gas station and liquor store. The perfect combination platter. The café itself is the size of breadfruit basket, and sizzling away inside are chunks of snapper, mahi, wahoo, swai, chicharrón, as well as conch fritters, plantains, cassava, and sweet potatoes, all for a fraction the price of the fusion appetizers at the resort hotels and trendier west end eateries. And outside, around thatch-roofed tables, an array of well-nourished Caymanians sit and nosh, swap stories and jokes, and generally enjoy the island life and food.
After lunch I'm hungering for some island music, so head over to Hopscotch Studios, where the Swanky Kitchen Band is in full practice mode for an upcoming wedding performance.
It's an incredibly energized jam—it's music that softens rock, and could bend the ironwood tree. Between takes I chat with the electric violinist Samuel Rose, the leader. He explains that "swanky" is a Cayman word for lemonade (made with brown cane sugar), and that Cayman kitchen music represents the melting pot that is Cayman, tracing influences back to Irish fiddling and Scottish jig traditions, mixed with African slave rhythms. Then it blends in ostinatos of calypso, reggae and jazz.
"In the old days the kitchen, or caboose as we call it, was the center of Caymanian homes, a detached room in the back where everyone gathered, and so it became a natural place to socialize, celebrate, dance and create music, using cassava graters and other kitchen utensils. We've picked up on that tradition, and are carrying it forward with our own signature." But Samuel doesn't want to jab too long; he wants to skank, and I'm not suffering from an overabundance of good sensations, so I step to the back of the room, pick up my feet in terpsichorean splendor, and surrender to the swank.
A photobomb went viral recently, three women in midst of a vacation photo pose being hugged from behind by a pin-eyed stingray: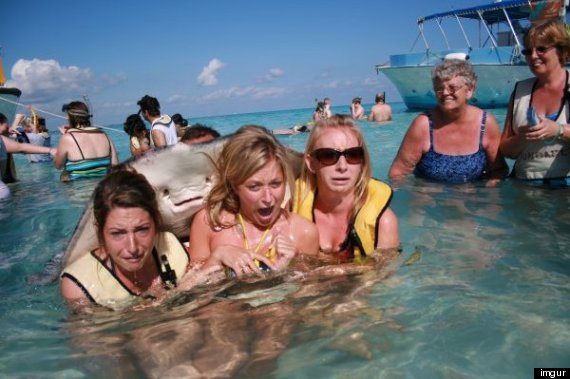 So, this final soft-blue morning I catch a fishing boat named Heavenly Hooker and head out to find the scene of the slime. We cruise out to a shallow bank in the North Sound, drop anchor, and beneath crystalline waters see a dozen gray-hued underwater bats, the size of pterodactyls, gracefully circulating at our stern. Captain Stacy leaps into the waist-deep brine with a bucket of smelly squid. Immediately the rays lap him, coddle him; cats to catnip. The captain motions me to join, but I'm a bit hesitant, remembering too well Steve Irwin's untimely death by stingray barb in the Great Barrier Reef.
But what good is travel without a little fear? So, I take the leap, and though my mind is trembling on the edge of danger, the soft Portobello mushroom skin of the rays against my own is rather silky and sensuous. It is an agreeable kind of horror.
This interspecies dynamic came about some years ago when fishermen, to avoid the once mosquito infested coastlines (so bad it was, they say, the mosquitos could suck a cow to bloodless death), started cleaning their catch in this calm off-shore channel, and the Atlantic Southern stingrays gathered to nibble at the gut scraps. Soon the stingrays began to associate the sound of a boat motor with food. Now, it's a daily ritual, and the wild rays have gone gentle, gliding about torsos, through splayed legs, planting hickies on exposed human skin while suckling for food, and wrapping wings around their guests in puppy-like hugs, all in symbiotic exchange for morsels of sea meat. "Oh, it feels good to be touched by a stingray," beams Captain Stacey. It is undeniably, ahem, a raydiant experience.
Latest posts by Kraig Becker
(see all)