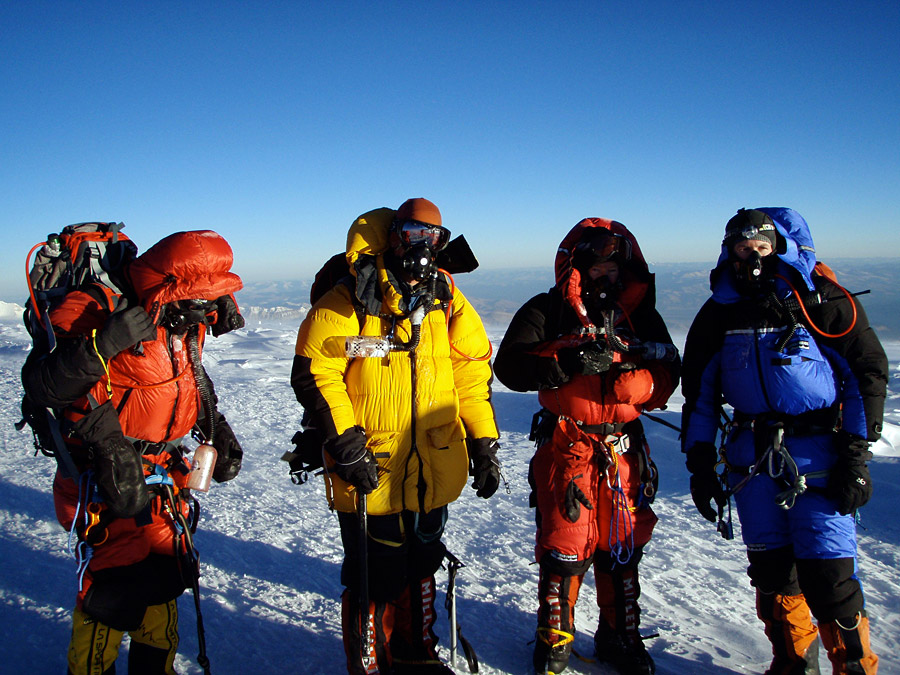 More news from the Himalaya today, as reports of success on Cho Oyu trickle in as expected. But over on Shishapangma, some teams are calling it quits due to safety concerns, while others arrive on that mountain seeking their second 8000-meter peak of the season.
As expected, the commercial teams that launched summit bids on Cho Oyu topped out amidst good weather this morning. Winds were light and visibility was high on top of the mountain, affording the summiteers great views of Nepal and Tibet, as well as surrounding mountains, including Everest and Lhotse. The latest dispatch from IMG says they team put two guides, seven climbers, and six Sherpas on the summit. Everyone is in good shape, and descending back to C2 today.
The Adventure Consultants summited a few hours behind the IMG team, but had similar results. They managed to put eight Sherpas, two guides, and six climbers on the summit, although by the time they topped out, the winds were starting to pick up a bit more, and clouds were beginning to move in as well. They are all on the descent now too, after spending a half hour on top of Cho Oyu.
Congratulations to all of the climbers who topped out on Cho Oyu. Get down safely.
The news isn't as good from Shishapangma, where ExWeb is reporting that some teams are now abandoning the mountain due to poor weather and unsafe conditions. Following the avalanche that claimed two lives last week, climbers on Shisha have reevaluated the situation there, and most have elected to go home rather than risk their safety. This includes 75-year old Carlos Soria, who had been as high as Camp 2, and even as late as yesterday was working to continue his acclimatization efforts. It appears that the mountain is simply too unstable for safe climbing this fall, and the risks of avalanche on the high slopes are too great.

Not everyone has given up on a Shisha summit this season however. After topping out on Cho Oyu earlier in the week, Bo Belvedere Christensen is now headed to Shishapangma in an attempt to claim a second 8000 meter peak in a relatively short span of time. Whether or not he'll change his mind once he surveys the mountain remains to be seen. ExWeb reports that Ivan Braun, a climber from Denmark, will be attempting the same feat.
Elsewhere in the Himalaya, the Korean team on Lhotse reports slow progress due to continued poor weather. They have reportedly finished stocking Camp 2, and are working to establish C3 at the moment, with the hopes of pushing up to C4 sometime within the next week or so. The team is counting on a change of weather soon, so they can begin planning the summit push, but at the moment, conditions remain difficult.
It turns out that the British military team won't be alone on Makalu this fall. They've been joined in Base Camp by a team led by Garret Madison of Madison Mountaineering. The squad only just arrived in BC this week, and have spent the past few days making acclimatization hikes throughout the region. They should start moving up the mountain within a few days however, so expect to hear more about their efforts as well. Garret is coming off a successful K2 expedition this summer, and will now lead this team in Nepal.
That's it for this Himalayan update. The season is already starting to wind down, and while there are still teams to follow, some of the bigger commercial squads are already preparing to head home. I'll continue to post updates as the news warrants it however, as there are still some exciting expeditions taking place.
Latest posts by Kraig Becker
(see all)