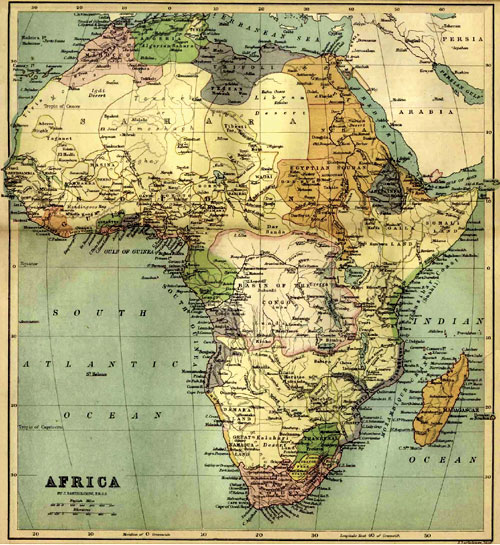 Next week, explorer and anthropologist Julian Monroe Fisher will return to Africa to launch the next leg of his Railriders Great African Expedition. As with previous phases of the project, Julian will be traveling in the footsteps of another great explorer, while researching ethnographical diversity on the African continent in the 21st century.
The Great Africa Expedition first began back in 2012, and for each of the past three years Julian has gone back to the continent to explore the changing ethnography of the indigenous people that live in a variety of regions. This year he'll be trekking through the Karamoja region, an area that crosses through Kenya, Uganda, and Sudan. That part of Africa is home to the Karamajong people, who migrated there from what is now Ethiopia around 500 years ago.
In the fourth phase of the expedition, Fisher will follow in the footsteps of Major Percy Horace Gordon Powell-Cotton (yes, that is all one name!) and Scottish hunter-explorer W.D.M. Bell, both of whom traveled through this part of Africa in the early 20th century. The Karamoja region remains mostly unchanged since that time, with very little development and few humans occupying the area.
Julian will once again be carrying a flag from the Explorer's Club for this expedition as he continues his research into the lives of native groups who have developed from hunting with bows and spears to AK-47s. He will examine how these pastoral herdsman have adapted to the modern era, and which of their unique traditions have managed to survive in the 21st century.
Fisher's route will also take him to Mount Elgon, Mount Kadam, the Kidepo Valley, and Mount Morungole, where anthropologist Colin Turnbull studied the Ik tribe of Uganda back in the 1960's. Turnbull wrote a book about the Ik entitled The Mountain People, and his graphic depiction of their lifestyle, and the hardships they endured as the result of their displacement from their ancestral lands,  caused quite a stir at the time. The Ik were forced into a major famine due to their migration, which caused major problems for the tribe.
You can learn more about Julian's plans by visiting the official website of the Great African Expedition. He'll depart next week for the journey, and will spend about a month in the field. While he is there, he'll be posting regular updates to his website as well, keeping us apprised of his adventure along the way.
Latest posts by Kraig Becker
(see all)