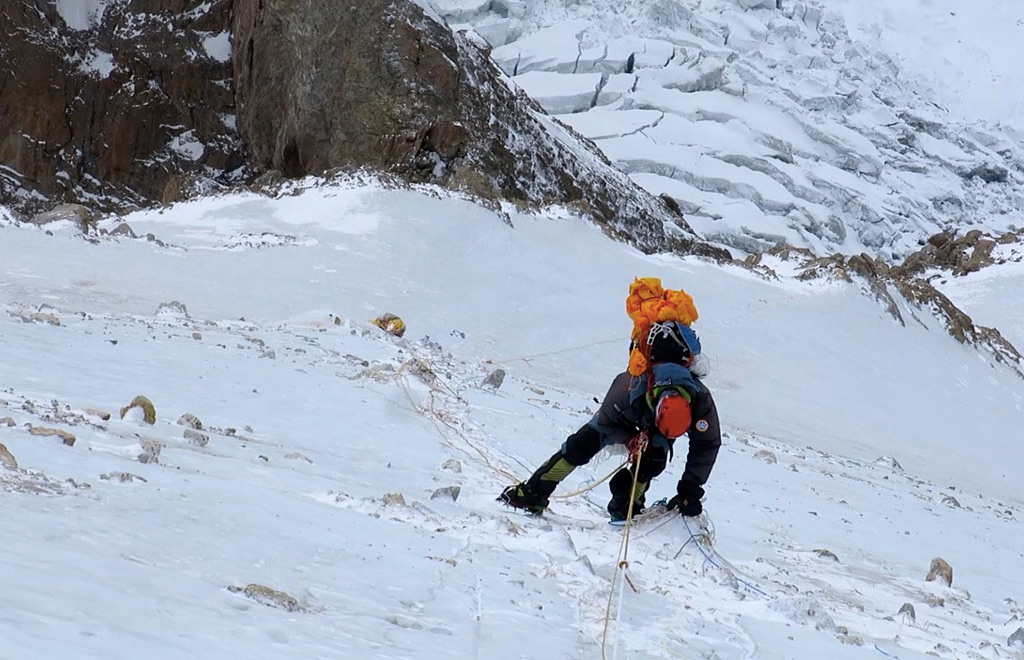 The summit push continues today on Nanga Parbat where the four man team of Alex Txikon, Daniele Nardi, Muhammad Ali Sadpara and Muhammad Kahn continue to move up the mountain. The squad has now reached Camp 3 located at 6700 meters (21,981 ft), but reaching that point was not easy as high winds had put the entire expedition in jeopardy. Fortunately, things seem to have calmed down now, and they are rapidly putting themselves into position to have a crack at the top, and possibly making history.
The team had intended to set out for C3 straight away this morning with the hopes that it would only take them a couple of hours to move up the mountain. But incredibly high winds (60-70 km/h – 38-42 mph) buffeted their tent all night, preventing them from getting sleep, and keeping them in place for a few extra hours. For a time, it looked like those winds would prevent them from going any further, but eventually they began to subside, and the foursome was able to move up from C2 to C3 in just five hours. They are resting there now as they begin to think about moving up to Camp 4 tomorrow, which will put them in position to go for the summit this weekend.
As you can imagine, the team is keeping a close eye on the weather forecast which now calls for cloudy conditions and precipitation, but much lower winds. Temperatures are expected to be very cold, although that is the norm on just about any 8000 meter peak in winter. The climbers are prepared for those conditions and are ready to push on towards the summit if they can. Moral continues to be high with the squad, but exhaustion is a real challenge at this point. The entire group has worked incredibly hard to reach Camp 3, but are determined to move on from here.
If everything stays on schedule, the team will reach C4 tomorrow where they'll assess the weather once again, and decide when to push on towards the top. It is possible that they could elect to take a rest day at Camp 4 to regain some strength for the final summit push, although that will likely be determined by the forecast. It may be that there simply won't be time for the luxury of day off, and they'll need to get up and back down as quickly as possible. If they do manage to summit, this will be the first ever winter ascent of Nanga Parbat, which would leave K2 as the only unclimbed 8000-meter peak in winter.
Stay tuned for updates. This summit bid has been the first legitimate attempt all season long, and it looks like it has a real chance of succeeding. We'll know more soon enough.
Latest posts by Kraig Becker
(see all)