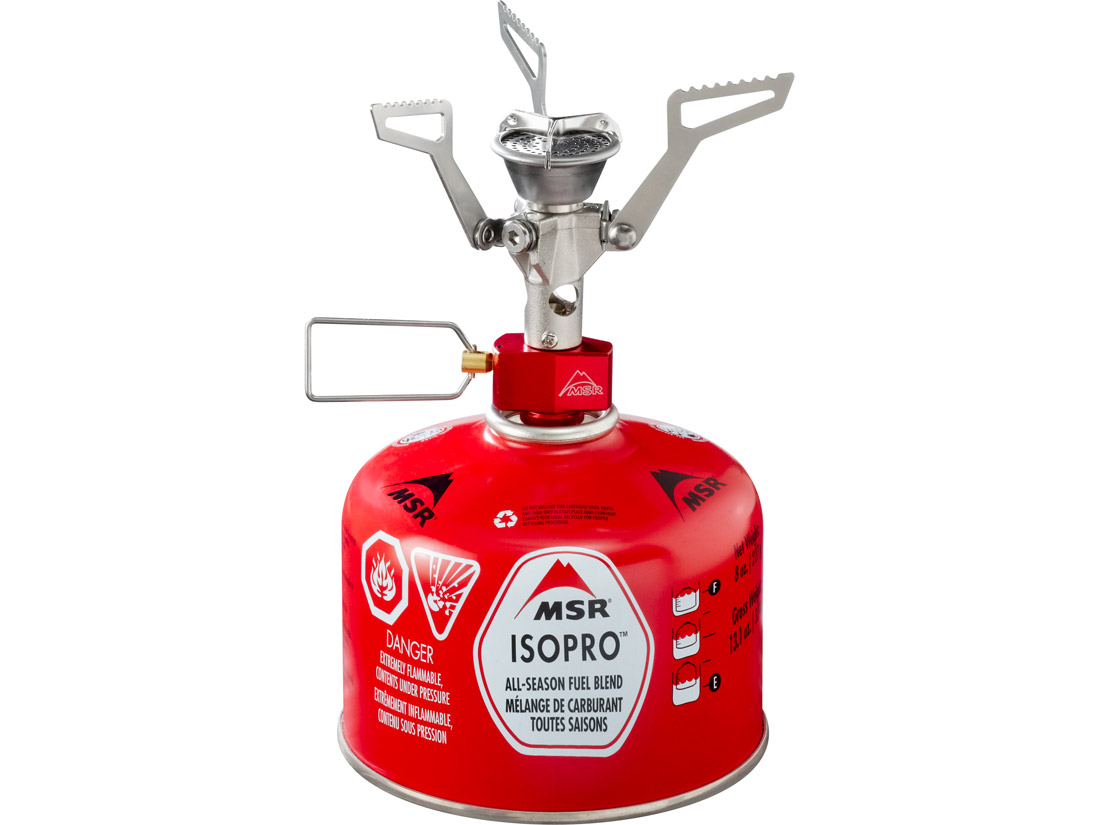 MSR's PocketRocket stove is one of those iconic outdoor products that everyone has probably seen, heard about, or used at some point. The tiny backpacking stove set new standards for size, weight, and efficiency, making it extremely popular amongst the light and fast crowd, or anyone who just didn't want to deal with a big, heavy stove taking up a lot of room in their pack. So, when the company announced that it was releasing a new version of this popular product it was met with some trepidation. After all, why mess with a good thing, right? But the PocketRocket 2 is everything that we've come to know and love about the original, but with some nice improvements that make it even better.
In terms of size and weight, it's tough to beat the PocketRocket 2. Weighing in at just 2.6 ounces (73 grams), this tiny stove is so small that it can be slipped into a pocket if that's how you really wanted to carry it around. In reality, you're likely to nest it inside a cooking pot or canister, and stuff it in your backpack, but it is nice to know it won't add much in the way of bulk.
In terms of efficiency, the PocketRocket 2 punches above its weight class. It can boil a liter of water in about 3.5 minutes, which isn't going to break any speed records, but is pretty impressive considering its size. On top of that, MSR says that it boil approximately 2 liters of water per 1 ounce of fuel, which is pretty solid performance in general. I found that the real world performance varied a bit from those numbers, with colder and windier conditions impacting overall efficiency, but for the most part I was generally impressed and pleased with the little stove's performance.

As is common with this type of stove, it simply connects to the top of a fuel canister, which also serves as its base, keeping it steady on whatever surface you place it on. An integrated switch is turned to get the gas flowing, making it easy to ignite the flame using a lighter. That same switch is turned to adjust the flame, allowing the camp chef to set it to full blast to really get things heated up (at the expense of fuel of course) or dialing it back to simmer, which the PocketRocket does surprisingly well.
With this latest edition of its iconic stove, MSR has added three pot guides that allow it to accept larger pots and pans. These guides cleverly rotate into position when in use, providing a higher level of stability when placing larger cookware on the stove. They then rotate out of the way when it comes time to store the PocketRocket 2, streamlining the design for easy storage. This is a welcome addition to the stove's design, providing more versatility for cooking meals around the campsite and even providing the ability to feed more people as well.
Overall, it's tough to find anything to criticize the PocketRocket 2 over. Yes, there are faster, more efficient, and powerful backpacking stoves on the market, but none are this small and light. When you take that into consideration, this product truly stands on its own. I did find it to be a bit unstable due to its height, which made placing it on the right surface key. But otherwise, it definitely performed above and beyond my expectations, which is saying something considering the legacy of the original PocketRocket.
The stove is also priced right at $44.95 as well, adding "affordable" to the list of superlatives that describe the PocketRocket 2. Find out more at msrgear.com and order one today from REI.
Latest posts by Kraig Becker
(see all)