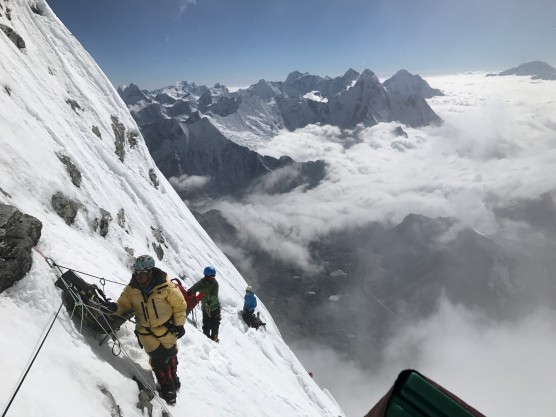 At long last we have some meaningful updates from the Himalaya today. It has been awhile since we've heard much from the teams still climbing 8000-meter peaks there, but now we know the status of the three major on-going climbs, and for the most part it isn't all that positive.
We'll start on Lhotse, where Korean climber  Sung-Taek Hong and his Spanish mountaineer Jorge Egocheaga have been attempting the very difficult South Face. Last we heard, they were going to launch a summit bid in late October, with the hopes of topping out in early November. After that, there were no updates. Now, thanks to adventure sports journalists Stephan Nestler, we finally have an update, and it seems the summit push didn't go as planned.
According to reports, Hong and Egocheaga launched their ascent on schedule and actually made it as high as Camp 4 at 8250 meters (27,066 ft) before turning back. High winds and heavy snow made it very difficult to continue, and the two men were reportedly exhausted before they called a halt to the climb and decided to turn back to Base Camp. Their summit push saw difficulties in both Camp 2 and 3 as well, where the strong winds destroyed tents and swept equipment and supplies – including food and gas – off the mountain. In other words, it was a very difficult summit push from the start, and from the sounds of things it never really got better.

Now, the climbers are back in BC and waiting for another shot at the mountain. According to Nestler, there will be one final summit push, most likely coming before November 15 provided the weather cooperates. For now, the Korean and Spanish climbers are waiting, regaining their strength, and hoping for a proper window that will allow them to go back up.
Over on Manaslu, the reports aren't a whole lot better. Hans Kammerlander and his climbing partner Stepahn Keck have been enduring poor weather as well, with high winds and cold temperatures across the entire mountain. Worse yet, the deep snow found higher up the slopes is said to be very unstable, making it difficult to safely climb up the peak. They have managed to go up to Camp 1 at 5800 meters (19,028 ft), but for the most part the two men, along with the documentary film crew that is accompanying them, have remained in Base Camp, waiting for better conditions. They hope head back up the mountain in a few days to reach C2 and C3, but at the moment there is a lot of uncertainty surrounding the future of the expedition.
Finally, we have received word that Luka Stražar and Nejc Marčič have ended their attempt at an alpine style ascent of Annapurna. According to an update posted a few days back, the duo halted their expedition after Marčič contracted frostbite in his toes. Thy had been making solid progress, but cold conditions made things tough and the potential loss of toes is enough to make anyone want to abandon their attempt on a mountain.
There you have it. Updates from all of the major expeditions we've been keeping an eye on over the past couple of weeks. I'll update further as warranted.
Latest posts by Kraig Becker
(see all)