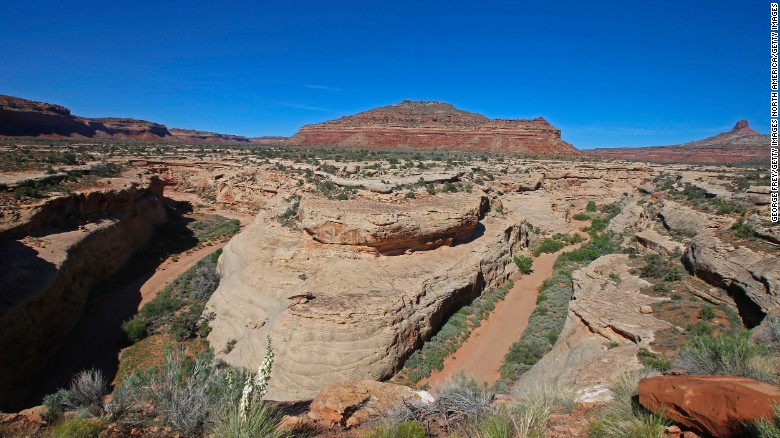 Earlier in the week we talked about the Trump administration's plan to reduce both the Bears Ears and the Grand Staircase-Escalante National Monuments in size. That proposal was officially announced on Monday, calling for the greatest reduction of public lands in the history of the U.S. Now, a coalition of activist groups that includes gear manufacturer Patagonia is banding together to sue the President to prevent this move from happening.
The day after the announcement was made to reduce the size of the monuments the lawsuits started to be filed. At least three came on Tuesday alone, with others following throughout the week. By Wednesday, Patagonia had replaced its usual website homepage with a warning message saying "The President Stole Your Lands," which remains in place as of this writing. The company has also created a second page with information about this topic, including maps showing the new monuments before and after the reduction. There are also links that allow concerned visitors to express their concerns by sharing the info on social media, although those efforts have done nothing to convince Secretary of the Interior Ryan Zinke to change course. In fact, he may be preparing to announce reductions to to other monuments as well.
Patagonia has been at the forefront of the movement to protect Bears Ears for years, and applauded the efforts of the Obama administration to protect the area last year. The company was also one of the first to step up to fight the President's move to review national monuments when it was announced earlier this year. Patagonia was also instrumental in getting the industries Outdoor Retailer trade show to relocate from Salt Lake City to Denver in large part because of Utah's actions against public lands.
The outdoor apparel manufacturer wasn't alone in filing lawsuits this week. A number of conversation groups, including The Wilderness Society, the Natural Resources Defense Council, the Sierra Club and seven other groups are all part of one lawsuits, while at least five Native American tribes are taking part in others. These lawsuits are expected to take years to sort out, with the potential to go all the way to the U.S. Supreme Court as judges decide where the limits of executive powers lie. That will be a matter of debate for some time, with some arguing the President doesn't have the authority to make this move, while others say it is well within his jurisdiction.
For now, Bears Ears and Grand Staircase-Escalante will remain unchanged while this issue gets sorted. What they will look like when it is all said and done will be very interesting.
Latest posts by Kraig Becker
(see all)