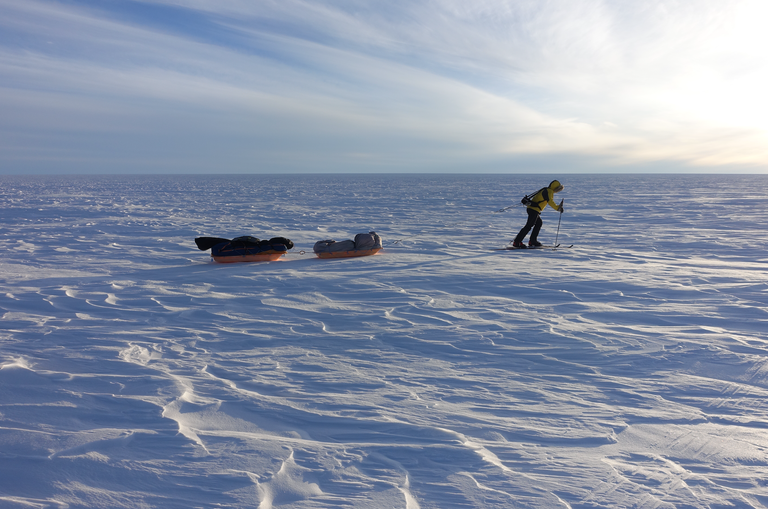 Most of the major expeditions and adventurous endeavors that we follow here at The Adventure Blog rarely get coverage from mainstream outlets, that is unless something goes majorly wrong. But, Colin O'Brady's attempt to ski solo and unsupported across the Antarctic has garnered him a bit of publicity beyond the usual adventure/expedition news sites. In this case, it comes in the form of a profile that was published at Popular Mechanics a few days back, giving readers a bit of insight into what O'Brady faces as he prepares to set out on his 70+ day journey across the frozen continent. 
The article does a fairly good job of giving readers the low down of what O'Brady is about to try to accomplish and the challenges that lie ahead. It shares a brief mention of Henry Worsley, who perished attempting the same journey back in 2016, and shares a passing reference to Ben Saunders' abandoned attempt last year. But, the article also makes it sound that skiing to the South Pole is a fairly rare occurrence, citing only a couple of successful expeditions that have taken place in the past decade. In reality, a number of people ski to the South Pole each and every year and O'Brady is just one of them who will attempt that same crossing this year. He's also not the only person attempting a traverse this season either, as British polar explorer
Lou Rudd
is attempting the same feat. 
That said, the Pop Mech story is a good introduction to Colin's story, which is an inspiring one to say the least. We've told it here before on The Adventure Blog, but it is worth mentioning again. A decade ago O'Brady suffered severe burns while in Thailand that covered much of his body. Doctors told him he would probably never walk again, but he defied the odds by not just walking but going on to compete in triathlons too. Eventually he would climb Everest and the rest of the Seven Summits, and complete last degree ski journeys to the North and South Pole as well. Now, he's about to embark on what will be the most difficult challenge of his life. 
One of the more interesting tidbits from the story is that a solo, unsupported Antarctic traverse has been dubbed "thermodynamically impossible." The reason for this is that without resupply, it is extremely hard to carry all of the food, fuel, and supplies you need to complete the journey. There simply aren't enough calories to be consumed along the way. O'Brady is looking to prove that theory wrong however, and when he gets underway he'll be dragging a 400 pound (180 kg) sled behind him as he goes. That's a lot of weight, but if he can pull it off it just might be how he manages to survive. 
As of now, Colin is out on the ice at the Union Glacier camp in Antarctica waiting for an airlift to his starting point on the Ronne Ice Shelf. Weather permitting, that could come any day now, and from there the real challenge and work begins. As mentioned before, we'll be keeping a close eye on his progress as he moves forward. This will be no easy task to say the least. 
Latest posts by Kraig Becker
(see all)