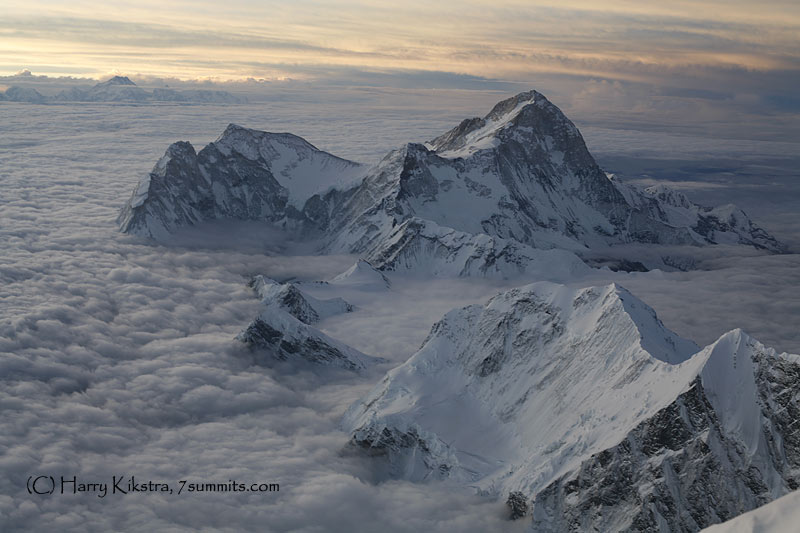 As the week comes to and end, there has been a lot of action in the Himalaya over the past few days to get caught up on.
Obviously Everest continues to be at the center of attention, with a climber getting sent home this week, we were keenly reminded that it is not business as usual on either side of the mountain this year. Today we have this report from MountEverest.net that says that Chinese military have taken up residence at Camp 2 on the South side of the mountain to ensure that no one breaks the ban on going higher than that point before May 10th. If that wasn't surprising enough however, the report goes on to say that Chinese police, in plain clothes, are patrolling Everest BC on the South Side as well. Crazy stories if true.
Meanwhile, the Peak Freaks team was allowed to make a sat phone call from Base Camp earlier this week and they report that things are progressing nicely for them. Everyone is in good spirits, healthy, and working away at the acclimatization process. They also report that ropes are fixed up to Camp 2, and that they would be making their way up to that altitude this weekend.
Moving away from Everest, but not too far, the latest, and likely last update, at least for awhile, from Brian Oestrike, came a few days ago. Brian is climbing Lhotse this Spring, which of course shares a number of camps with the Everest teams. The latest dispatch indicates that Brian made it to BC just fine, but is now under the communications blackout until May 10th. Brian is climbing solo on Lhotse, working closely with his sponsor Hypoxico to test out some new high altitude training gear.
As you've probably heard already, there was a rather scary scene at Makalu BC earlier this week when an MI-8 helicopter carrying climbers crash landed. No one was hurt in the incident, but it has taken out the only helicopter in the area and there are several climbers suffering from altitude sickness that could possibly need evacuation. Aside from that, work on the mountain progresses, and the way has been cleared all the way up to C2.
On Dhaulagiri there were some early attempts at the summit this week, but bad weather forced the teams back down. They were attempting an alpine style ascent, but the high winds, coupled with snow and rain at altitude, have made that nearly impossible at this point, so a new approach may be necessary.
Things are beginning to heat up on Annapurna as well, with Camps 1 and 2 established, and teams waiting for their weather window. When that comes, they are ready to make their first summit bids. Don Bowie reports that there is already a team higher on the mountain, already on the wall along Tomaz Humar's route. Bowie's team will make their assault, carrying their Camp 3 on their backs, and going alpine style above Camp 2. Summit bids should begin very soon.
Finally, Maxut is on Manaslu, where he probably has already begun his summit bid as well. The latest news says that ropes are fixed up to C2 here as well, but the Kazakh climbing ace isn't going to wait for the route to be cleared. Instead, he'll go alpine style, possibly solo, as well.
Seems like we could begin hearing of summits in the Himalaya as soon as this weekend, depending on weather. It should be an interesting week next week for sure.
Latest posts by Kraig Becker
(see all)