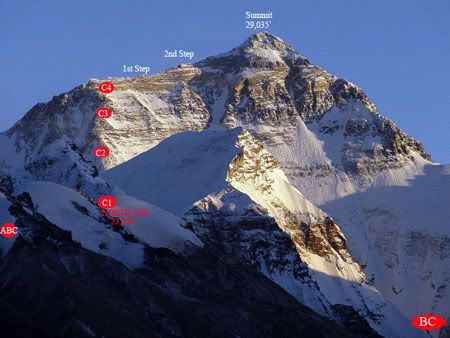 Alan Arnette is always a great source of information, and his Everest 2009 page is being updated daily with news from the mountain. Not only does he know many of the guides and climbers personally, Alan has also been on Everest three times, and has first hand knowledge of how things get done there, which is why today's update is so interesting.
Yesterday, I mentioned that a major logistical meeting went down on the mountain. This yearly pow-wow is where the teams hash out how the fixing of ropes is going to occur on the South Side of Everest. This meeting can be a bit frustrating for those involved, as not all the teams contribute the same level of supplies or manpower, with some trying to avoid helping as much as possible.
Alan offers up a great explanation of the process, saying that the Ice Doctors, who are payed out of the permit fees by the Nepal Ministry of Tourism's Sagarmatha Pollution Control Committee, take care of the route through the Khumbu Icefall and fixing the lines up to Camp 2. They won't go any higher than that however, which leaves the rest of the mountain, from the Lhotse Face to the summit, to be fixed by the teams.
From there on up, the teams work together in a loose union to fix lines all the way up the South Col to C4, where Alan says that the first team to make summit bid starts putting down the ropes. The climbers that follow use them too as they make their bids. He also makes a few points about climbers who go "solo and unassisted" and their use of the lines as well, saying that in this day and age, it is almost impossible to go "unassisted" on Everest.
Of course the situation is completely different on the North Side, where Russell Brice and his Himex team have taken care of the fixed lines for year. Brice would have his Sherpa teams, amongst the best in the world, fix the lines all the way up the mountain, and charge each climber $100 to use the lines. Most thought that was an excellent bargain, and were happy to comply. This year, Himex is on the South Side, and the China-Tibet Mountaineering Association is taking care of those duties.
An interesting read to be sure, and a nice look at the politics of the mountain.
Latest posts by Kraig Becker
(see all)