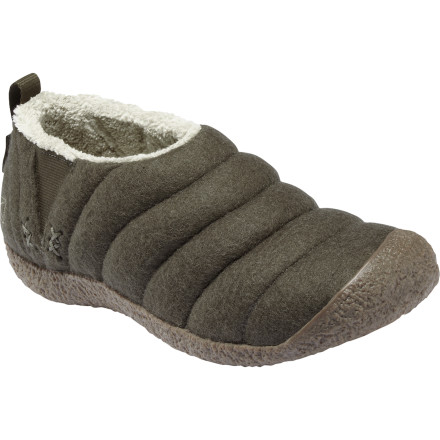 Keen has built a reputation for creating comfortable and versatile shoes for hiking, paddling, cycling, and more. But their most comfortable shoes of all are reserved for the end of the day, when you're finished playing on the trail, and you're ready to kick back, take it easy, and lounge around a bit. When that moment comes, you'll want to slip your feet into a pair of Howser Wool slippers.
Billed as a "sleeping bag for your feet," the Howser Wools are lined with super-soft microfleece that is both amazingly warm and comfortable. The exterior of the shoe is created out of recycled felt that has been quilted to give them a distinctive look that is not unlike a pair of bedroom slippers in design. But where these shoes separate themselves from those slippers is in the rugged rubber soles, which make the Howsers an appropriate choice for hanging out at home or heading out for a night on the town.
Wearing these shoes is a bit like having a cloud wrapped around your feet, which will make you appreciate the fact that you can wear them just about anywhere, without worrying about ruining them. The water resistant nylon upper keeps the interior of the shoe, and your feet, dry in all but the wettest conditions, and helps to protect them from the wear and tear of regular use outside the home.
Over the holidays, the weather in Austin was both cooler and wetter than normal. In fact, we had a string of gray, gloomy, misty days that were not ideal for doing much of anything outside. On several of those days, I found myself naturally slipping into these shoes and heading out to run errands, meet friends, and go about celebrating the season. During that time, the interior of the shoe continued to change and mold itself to my feet, which actually made them even more comfortable than when I first took them out of the box. The warm microfleece was perfect for the weather as well, keeping my little piggies toasty warm.
Obviously these shoes aren't meant for active pursuits, but they are perfect casual use. I'd recommend bringing them along as a second pair of shoes when traveling or backpacking. They're great for kicking around the cabin at the end of the day or gathering around the campfire before bed. With a price tag of just $65, they also won't break the bank, which makes them an even more attractive for travelers and professional loungers alike.
Order your Keen Howser Wools from TravelCountry.com.
Latest posts by Kraig Becker
(see all)