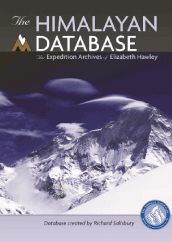 As I've mentioned before, Alan Arnette is the best source of news and information on Everest, both leading up to the start of the spring season and while it is in full swing. As usual, Alan is getting us all ready for another year on the Big Hill by sharing some insightful interviews prior to the start of this year's expeditions. One of those interviews, posted earlier this week, is with a man you've probably never heard of, but whose impact on Himalayan mountaineering is undeniable.
The subject of Alan's latest interview is Richard Salisbury who works closely with the one and only Miss Elizabeth Hawley. For those who don't know Elizabeth Hawley, she is the preeminent expert on mountaineering the Himalaya, having spent more than 50 years in Kathmandu cataloging climbs and verifying just who has, and who hasn't summited. Quite frankly, if Miss Elizabeth says you haven't summited, no one else in the world is going to believe your story either.
Salisbury first met Hawley back in 1991 when he was planning a climb up Annapurna IV. At the time, he shared a spreadsheet he was using to keep track of the details of his climb, and he suggested that Hawley should start using a database to track all of the records that she was keeping of the big climbs in the Himalaya. She told him that she already had a grad student on that very project, but when the student moved to the U.S. to attend university, the project hit a wall.  In 1992, she and Salisbury reconnected and he began working on what would become the Himalayan Database, the most comprehensive expedition archive of the region.
This database has become the definitive work and lasting legacy of Elizabeth Hawley and it is used by climbers, guides, media outlets, writers and numerous other people to keep track of what happens on Everest and the other big Himalayan peaks each year. In the interview, Richard talks about the origins of the project, problems with false summits, how Everest has become increasingly safer to climb and a whole lot more.
For Everest junkies this will be a fascinating read. Lots of good insight and statistical information from a man who has a long history of climbing and trekking in the Himalaya and working with a woman who knows more than probably anyone else on the subject.
Latest posts by Kraig Becker
(see all)