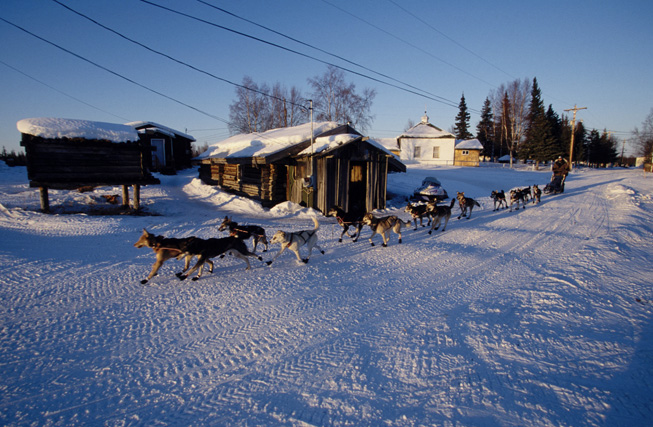 The other major event that got underway this past weekend was the 2014 Iditarod sled dog race. Run annually through the Alaskan backcountry the 1000-mile long competition pits the best mushers in the world against one another on a trail that is steeped in history and tradition.
After the ceremonial start in Anchorage on Saturday, the race officially restarted in Willow on Sunday. Since then the top racers have been burning up the trail, and now – just two days later – they are approaching the Nikolai checkpoint, which is 263 miles (423 km) into the competition.
As of this writing, the only musher to reach that point is 4-time champ Martin Buser, who clocked into Nikolai shortly after 1:00 AM local time this morning. In pursuit are Aliy Zirkle in second place and Sonny Lidner currently running in third. Nicolas Petit and Hugh Neff round out the top five, all of which are out of Rohn and chasing Buser.
Buser has taken the strategy of pushing his team early on in the hopes of building a big enough lead to help carry him through to late in the race. This has caused his challengers to up their game as well, as they try to keep pace. Buser attempted something similar last season, but came up short in the end, losing out to Mitch Seavey in Nome. The 2013 champ is currently running 9th place, while his son Dallas – also a former champ – is in 7th. Iditarod legend Jeff King is lurking on the leaderboard as always too. He is in 6th place out of Rohn.
There is still plenty of racing to go in the Idtarod, so it is too early to say just who will be the front runner as the teams turn towards Nome. But there are a lot of very experienced mushers at the top right of the leader board right now, and it shaping up to be an exciting race. For his part, Buser says he has one of his best dog teams ever, which is saying something. Will they be enough to get him to Nome in front of the competition? The next few days will tell.
Latest posts by Kraig Becker
(see all)