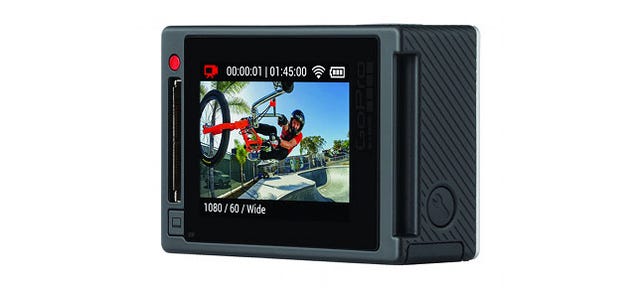 Aspring adventure filmmakers are no doubt wondering what GoPro has up their sleeve for their next generation camera. After all, the Hero 3 line has been out for several years, and the competition is starting to get a bit stiffer in what has become a very crowded action cam market. Yesterday, gadget website Gizmodo posted a round-up of the latest rumors circulating around the as-yet unannounced Hero 4, as well as a photo that may actually show off the product for the first time.
Amongst the new features expected to be coming to the new camera are a touchscreen LCD that will make it much easier to access, and adjust, the settings, as well as monitor and review any footage that is being shot. Previous models of GoPro cameras only had a small screen on the front which provided information on battery life and memory card capacity. A color LCD would be a significant upgrade in terms of what filmmakers could do in the field without needing to connect to another device.
The bigger news is that the Hero 4 is expected to be able to capture video in 4K resolutions at 30fps, which will greatly improve the quality of the films created using the camera. As Gizmodo points out, the Hero 3+ Black edition had the ability to shoot 4K as well, but at 15fps no one ever really bothered to use that mode. A true 4K capable GoPro will be extremely popular for sure.

The report also indicates that the overall size of the camera will remain about the same as current models. That means that all the current accessories, such as housings and mounts, will continue to work with the device. That's good news for anyone who has already invested in the GoPro line, as it will make the transition a smooth one.
There is no indication when the camera could arrive in stores, but GoPro generally likes to update products in the fall, ahead of the busy holiday shopping season. That means we could see the Hero 4 soon, but for now we'll have to wait to see if these rumors are true.
Upate: More info from Gizmodo today says that the LCD touchscreen may only be available on the Hero 4 Silver edition, which will shoot 4K video at 15fps. The top of the line Black Edition will not have the touchscreen, but will probably be able to shoot 4K at 30fps. Interesting trade off if true.
Gizmodo also says that the photo above is an actual shot of the camera, which will also take photos with its 12-megapixel sensor, and will be waterproof down to 131 feet. Pricing remains a mystery at this time, but hopefully more will be revealed soon.
Latest posts by Kraig Becker
(see all)