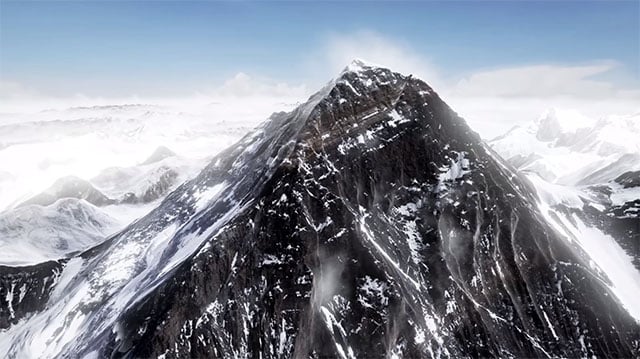 One of the hottest trends in technology at the moment is virtual reality, with 2016 set to be the year that the long-promised VR experience will finally come into its own. To meet the demands of this new audience, a number of companies are already creating cutting-edge virtual reality experiences, including games, movies, and interactive simulations. Last week, it was announced that one of those simulations would allow us to scale the tallest mountain on the planet – in stunning high resolution – without ever leaving home.
At a tech conference held in San Francisco, an Iceland-based media studio called Sólfar unveiled the first look at Everest VR, a virtual reality experience that will allow viewers to travel to Nepal, and climb the mountain from the south side. While not a whole lot is known about the program just yet, a blog post on the NVIDIA website describes the experience this way:
"Cross the treacherous crevasses of the Khumbu Icefalls. Scramble up the icy Lhotse Face. Weave your way up the path of the Hillary Step, poised on a knife-edge between icy slopes and rocky cliffs. Finally, reach the summit of Mount Everest for a stunning view from Earth's highest point."
In other words, it sounds like this will be a highly detailed experience that will start in Base Camp and allow you to scale the mountain, visiting the well known mountaineering landmarks along the way, all without the need to carry bottled oxygen.
Sólfar is working in conjunction with a special effect company called RVX, which helped recreate the impressive visuals in the Everest film that was released in theaters a few months back. If you've seen that movie, you know what to expect from the VR program to a degree, although I would expect you'll have lots of freedom to explore the mountain. In fact, RVX reportedly used more than 300,000 high-resolution images to create the virtual mountain, bring a high level of realism to the simulation. For many of us, it will probably be the closest we come to actually getting the chance to climb the peak, so it should be a very interesting experience to say the least.
It is unclear exactly when Everest VR will be available, but considering most of the highly anticipated virtual reality hardware isn't going on sale until next year anyway, it seems likely it'll ship to the public around the same time as the Oculus Rift. Considering how this new wave of VR is being lauded for its realism and sense of scale, this should be quite the showpiece for the new technology.
Check out teaser trailer for Everest VR below.
Latest posts by Kraig Becker
(see all)